Ready to take your social media strategy to the next level — beyond engagement and awareness? Lead generation is a great place to start.
While social media is a key tool for generating brand awareness and engagement, it has evolved into the lead generation driver of choice for digital marketers across industries.
Once upon a time, lead gen on social media was a tedious process. From users having to wait for a landing page to load to access a form, to advertisers having to manually download leads to contact them, it was a lengthy process from start to finish. Over the past several years, platforms like LinkedIn and Facebook have completely streamlined the procedure and amplified social's ability to serve as an efficient lead driver.
Let's walk through three ways social media has evolved into an essential part of any successful lead generation strategy.
1. Users do not have to navigate to a landing page to complete a form.
It's important to consider that users are met with ads on social media while they are doing something else – scrolling through their feed, engaging with friends, watching stories or reading the news. That's why it was a social marketer's dream come true when lead gen forms became easily accessible in-platform. Now, users simply click the CTA and are presented with the form to quickly provide their information – some of which may be auto-filled by the platform.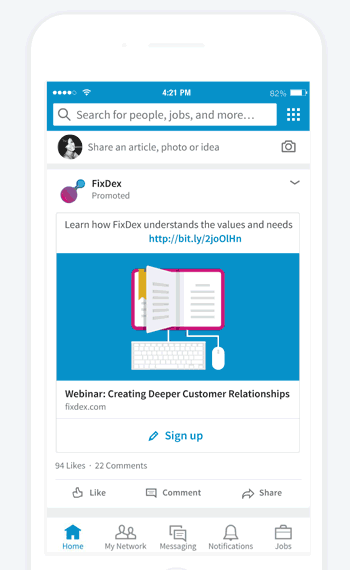 To maximize ad performance, it's essential to make the user experience as streamlined as possible. By eliminating the step of leaving the platform and waiting for a landing page to load, you also remove the possibility that someone may grow impatient and navigate away from your site before becoming a lead.
2. Social media's robust targeting capabilities help generate quality leads.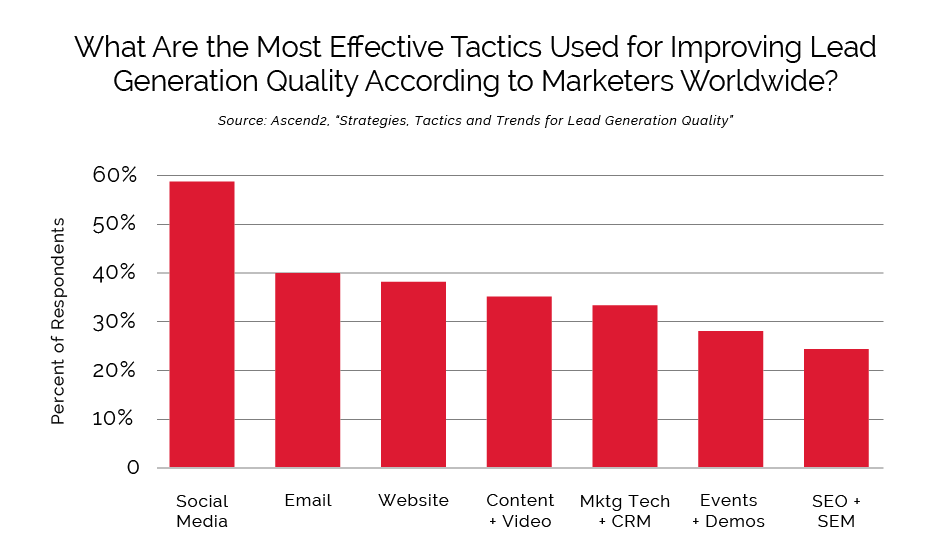 In a recent poll, marketers around the world were asked what tactic is most effective at improving lead quality; 59% of responders answered social media. Targeting on social offers many parameters to help build audiences based on specific attributes that matter to your brand, connecting you with the most relevant audiences. These parameters include: 
Interests/Attributes: Reach users with relevant interests, job titles, industries, web activity, online shopping activity – the list goes on.
Lookalikes: Utilize existing customer information and allow the channel's algorithm to find users who are similar, i.e. users who share attributes and interests with users who are likely to provide their information.
Retargeting: Get back in front of users who previously engaged with your ads or website but had not initially provided their information.
3. Most CRM platforms integrate directly with social platforms.
It's likely that your CRM can be directly integrated with social platforms to ensure seamless data collection and retrieval. For some of our clients, this translates to minimal friction between marketing and sales. For others, it means that leads automatically become part of an email marketing campaign where they can then be nurtured from lead to customer. Services like Zapier and Tray.io can even help integrate your CRM with social platforms. Isn't automation wonderful?
Matter has put these methods to the test, resulting in serious growth in paid social lead gen efforts. Month over month, campaigns experienced a doubling in lead volume and a 52% decrease in cost per acquisition. Fill out the form below and one of our social media experts will be in touch about how to elevate your lead generation strategy.