The reality is, most leads aren't ready to buy the first time they interact with your brand. Buying cycles fluctuate among industries, services and products, which is why lead nurturing is such an essential part of your digital ecosystem. Email marketing is one of the fastest and most cost-effective forms of lead nurturing to date. To run an effective email marketing program, it's important to make sure your organization is utilizing automation to its full potential. Understanding and implementing email best practices can significantly elevate your email strategy and deliver a clear ROI for your business.

Whether it's Constant Contact, Hubspot, Pardot or another email marketing system, segmenting and nurturing your leads with email workflows is a huge driver in building relationships and moving leads down the funnel. If you want customers to buy from you, you must stay top of mind by getting in front of them multiple times.
Here are the top 5 ways to ensure success:
#1: Segment Your Audience's List
Segmenting your email lists allows you to develop targeted messaging for your audience personas. Marketers have noted a 760% increase in revenue from segmented campaigns. Through segmentation, you can achieve high levels of personalization by collecting data on individuals who are interested in your product or service.
#2: Focus on Personalization
In today's marketing climate, the answer to delivering emails that successfully drive conversions and brand awareness is personalization. Start the email with a first name personalization token and use insights from behavioral or web analytics to customize the content throughout the email. You should also include personalization in the subject line, as it's proven to increase open rates exponentially.
Here are three different ways to use web insights and behaviors to segment and personalize your email communications to make your customers feel like you see them as a human and not a number:
Demographics
The first way marketers can segment emails is by using demographic data — such as age, gender, company position and income level — to tell you about a contact's needs and interests. For example, if you're hosting a local event in Boston and you know a segment of your audience lives in the city, you can target them with a specific email. Gather demographic information and behavior through forms on your website with tools like HubSpot or Mouseflow
Email Engagement
Email engagement is another easy way to segment your lists — and it can have a huge impact on your overall email campaigns results.
You can create a re-engagement email campaign for inactive users that can include a coupon or discount to get these contacts to re-engage, or you can create an email offering VIP access to products for users who consistently engage with emails. And in most email marketing platforms, you can create lists based on email marketing activity – last email open date, click date, etc.

Website Behavior
Keeping track of a visitor's website behavior is another simple way to get more information about visitor interest. Website behavior is an extremely powerful data set to utilize, and in some platforms, you can easily view a contact's behavior on your site.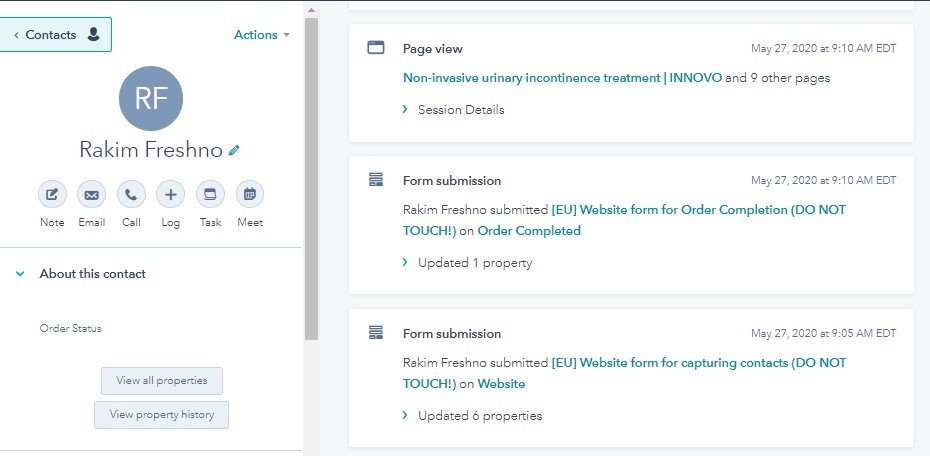 You can trigger targeted email workflows based on a page view or specific form fields submitted by users:
Individuals who visited one page but missed another related page
What videos people watched or what buttons they clicked
Content they downloaded
#3: Add Visuals to Your Emails
While your emails should be informational, it's important to provide as much information as you can through visuals — be they graphics, videos, infographics, gifs or images.
Most individuals skim through emails, so having visuals that will catch their eye and make them read the content is critical. The examples below show how updating an email with a few images, CTAs and graphics make a big difference in the overall look and feel of the email.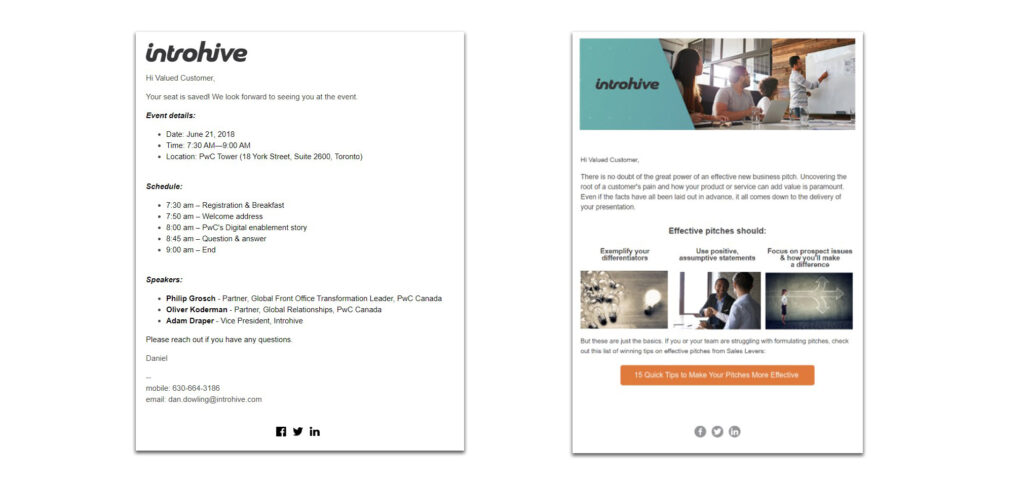 #4: Automate Your Email Campaigns
Creating quality leads that convert prospects should be the main goal of any email marketing program. Automation helps move leads down the funnel and into various stages of the buying journey in a scalable way.
Automated emails help deliver consistent brand messaging at the right time for each individual. Effective automated campaigns help move people from awareness to consideration to the decision stage.
Some automated email workflows that work well for B2B and B2C organizations are:
Welcome Workflow: A top-of-funnel workflow used to bring new leads into the funnel who may not be looking at specific products or services. Often triggered by a sign-up form on the homepage or highly trafficked webpage.
Abandon Cart Workflows: Used mainly in B2C to remind consumers they left an item in their cart, offering an incentive to purchase.
Post-Purchase Workflow: Builds brand awareness and loyal customers through continuous engagement after users have purchased.
Amongst these highly effective workflows, there are others — such as post-event, product-specific, industry-specific workflows — that all enable a strong email marketing program.

#5: Test as Much as You Can
Many email platforms allow you to test various parts of your email to understand which content resonates most with your audience. A/B testing subject lines can help increase open rates, while testing CTA buttons helps you to analyze what language made your readers click through. It's essential to utilize data to continuously optimize and improve your email campaigns.

Ready to level up your email campaigns? Fill out the form below and our email experts will be in touch.