Podcasts vs. Video Series
So, you've realized the value of long-form content in building brand affinity and audience interaction – that's awesome! You're already ahead of the B2B and B2C content curves. Now comes the real challenge (also the fun part): planning and producing that content. With our breakdown of pros and cons, alongside general recommendations based on our production experiences, you'll have a great foundation to tell your story with long-form and original content. 
At Matter, we specialize in long-form and original content, and so much more. If you're looking for some extra hands and expertise, click HERE to schedule a free strategy call with our team. In the meantime, let's dig in.
Why we invest in long-form content, briefly
In short, because it drives business outcomes. By creating niched, expansive content series that audiences consume willingly, businesses can develop brand affinity, aka the holy grail of audience engagement. Modern consumers have countless options for nearly everything (including what you do/make), and studies show they ignore content they perceive to be ads. That means brands today need to create deeper relationships in order to stand out in a crowded field. With long-form content, your story is your superpower, and the niche audience you've targeted feel personally connected to your brand in ways that bite-sized content cannot deliver.
Now let's figure out how you're going to do it!
Choosing what's right for you: Podcast or Video Series?
Figuring out what's best for your story, your team and your budget can sometimes come down to simple comparisons. Let's look at these formats in some practical detail.
The Pros of Pods
Easier to consume
Podcasts are super portable and flexible, since they only occupy a single sense. That is, people can listen to a podcast while doing literally anything else – driving, taking a shower, walking their dog, whatever. Plus, because they're engaging with the content willingly, multitasking doesn't take away from their engagement.
Easier to produce
If you've ever produced video, you can appreciate the time and budget investment. Podcasting allows you to tell your story with audio without the complications of video production. Remote production tools and software have made the barrier to entry much lower. Plus, you can record a pod in your jammies in a walk-in closet, and your audience is none the wiser!
A "safe" but impactful entry point for long-form content
So, you have a powerful story to tell and buy-in from leadership to tell it, but you don't have the time or budget to create a Netflix- or YouTube-style video series. That's totally fair! Podcasts can be a perfect choice in these instances because they're typically more affordable and easier to execute. Without expensive cameras, set design, hair and makeup, and wardrobe to worry about, you get to focus on the most important part: telling your stories effectively.
The cons of casting
Inherently intimate
Being inside your audience's head can be both a pro and con, and trivial things like sound effects and your host's voice can have a substantial impact on engagement. Think about how the audience will receive your host's personality, perspective and tone of voice – maybe using an executive isn't the best choice here. Still want to involve your CEO? Well, that's what guests are for!
It's easy to make a mediocre one
Don't just do what others have done – carve out your niche by doing something utterly unique to your business. It's critical you set yourself up for success by doing the hard, creative work of finding your niche and creating a unique angle and format.
The pros of video
Arguably the most engaging format
Video, as a thoughtful combination of visual and audio elements, can engage like almost nothing else, in part because our brains are wired to connect with human faces. Eye contact and other techniques that drive a sense of intimacy go a long way in connecting humans with ideas and persuading them to take action. Put simply, podcasts can't do that.
Videos can turn into podcasts
Did you know that you can take the audio track from a video and, with minor edits, use it as a podcast? That's a handy way to repurpose content and use it across different channels. Obviously not every video would make a great pod, but even a great pod can't be easily turned into a video.
Highly differentiated
Chances are few (if any) of your competitors are producing long-form, episodic video content. Precisely because it takes a lot of creativity, effort and resources to create, you can seriously stand out with a well-done video series.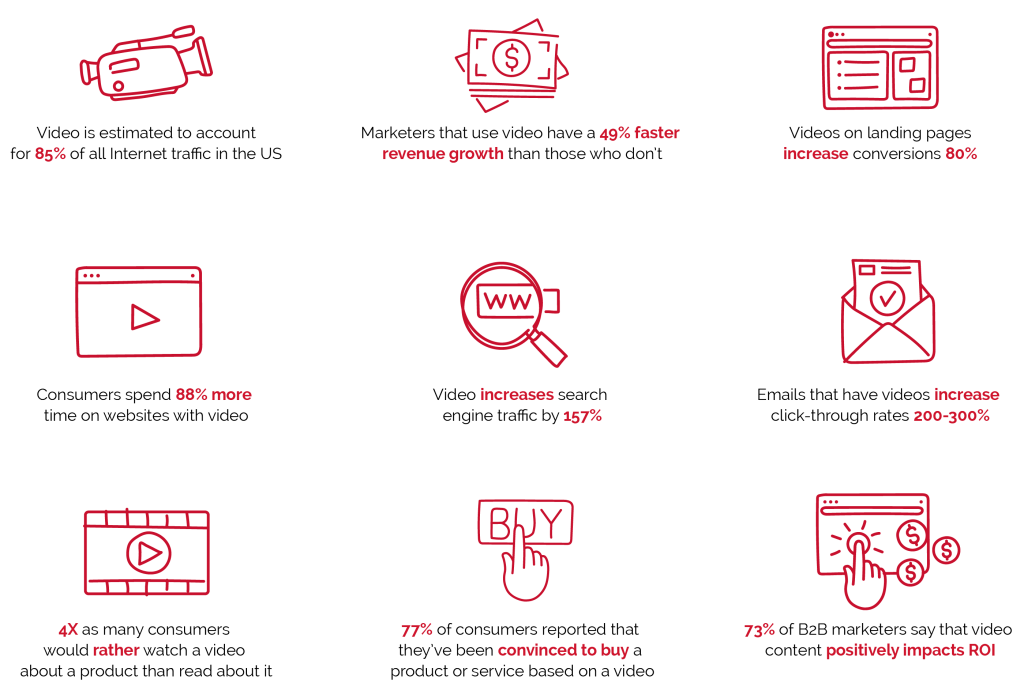 The cons of video
Series production must be hyper optimized
If you don't make it as easy as possible to produce content at scale (by setting up a semi-permanent studio, working with a reliable creative partner/agency, planning content for 3-6 months in advance) it's easy to get overwhelmed and go over budget.
The camera isn't for everyone
Not everyone loves being in the literal spotlight. "Lights, camera, action!" can really throw a wrench in being authentic and in the moment for some people. With the help of an agency partner like Matter, you can coach almost anyone to be comfortable in front of a camera with planning, scripts, test-runs, teleprompters, etc. But, in those rare but very real exceptions, we can help you recognize when someone is better suited to sit behind the mic before you get locked into video as a medium.
We recommend a hybrid approach
At the end of the day, you need a content library that people will engage with repeatedly. To get there, your content needs to be topical and evergreen. Your library must be well-structured and regularly updated. And you need to keep it spicy with a variety of content types, formats and lengths. Doing so keeps your audience engaged by matching their needs with content offerings, consistently re-engaging them as they develop a sense of trust for your brand. As your library grows, so do your customer relationships and, in turn, outcomes for your business.
Not settling on a single format gives you the flexibility to tell your stories, however they're best told. So, if you want to do an interview series that puts subjects in a unique environment to enhance the spontaneity of the conversations, develop and produce a video series. But if a story doesn't rely so much on situational or visual cues, then you have the flexibility to produce a podcast. Not every format fits every story, and it's important to acknowledge that as you plan and build your content library. You're also not beholden to only one show – the more niche you can get with your respective series, the better.
Looking for advice on how to get started? Check out the rest of our "Marketer's Guide to Valuing Long-Form Content" and, if you still have questions, don't hesitate to reach out to us using the form below.