Over the coming days, we'll be sharing new resources that can empower you to continue creating impactful, "at-home" marketing content for your organization during this unusual time. Welcome! Today is Part IV, "Looking Great via Webcam"   
---
See Part I: Tips for Shooting Smartphone Video, Part II: When to Consider Animated Videos and Part III: Repurposing Your Content Library
---
If you're currently working remote, you're very likely being encouraged to use video conferencing more frequently and for the foreseeable future. Aside from that, you still have client relationships to maintain and sales goals to meet. So the next best thing to grabbing a coffee is sharing your value prop via personalized video.
But, perhaps you've noticed or been distracted by how unflattering your webcam presence is. Maybe you're a dark shadow of yourself, maybe you're too bright, or maybe it's an unfortunate camera angle.
To be candid, webcams aren't exactly flattering. However, with a few tricks, you can significantly improve how you look, so you can stop worrying about your appearance and focus on the task at hand.
Use lighting to your advantage
Adjust your camera to your eye-line
Adjust your framing
Clean up the background
Adjust audio
---
Use Lighting To Your Advantage
When video conferencing, it's best if you don't look like a mysterious shadow. Light is a beautiful thing, so use it to your advantage and brighten your face! If you have an obvious light source – like a window – be sure to always keep it in front or to the side of you. Just not behind you, which will cause you to silhouette.
If you're working at night, don't just rely on the overhead lights. Pull in a side table lamp to aid. Or if you happen to have a second external monitor, put up a bright image and place it right behind your laptop to use it as a light source.
---
Adjust Your Camera To Your Eye Line
Ideally, you want the lens of your webcam to be level with your eye line. Grab something sturdy – like a stack of books or an empty box – place your laptop on top, and you'll be good to go.
If you're looking for a more permanent solution, try investing in a decent laptop stand. Raising your laptop to eye level encourages better posture too, so it's a win-win.
---
Adjust Your Framing
You should position yourself about an arm's length away from the screen. Follow the "rule of thirds" by positioning your eyes at approximately the upper third of the frame. Leave a bit of space between the top of your hair and the top of the frame. In the video world, this space is termed "headroom."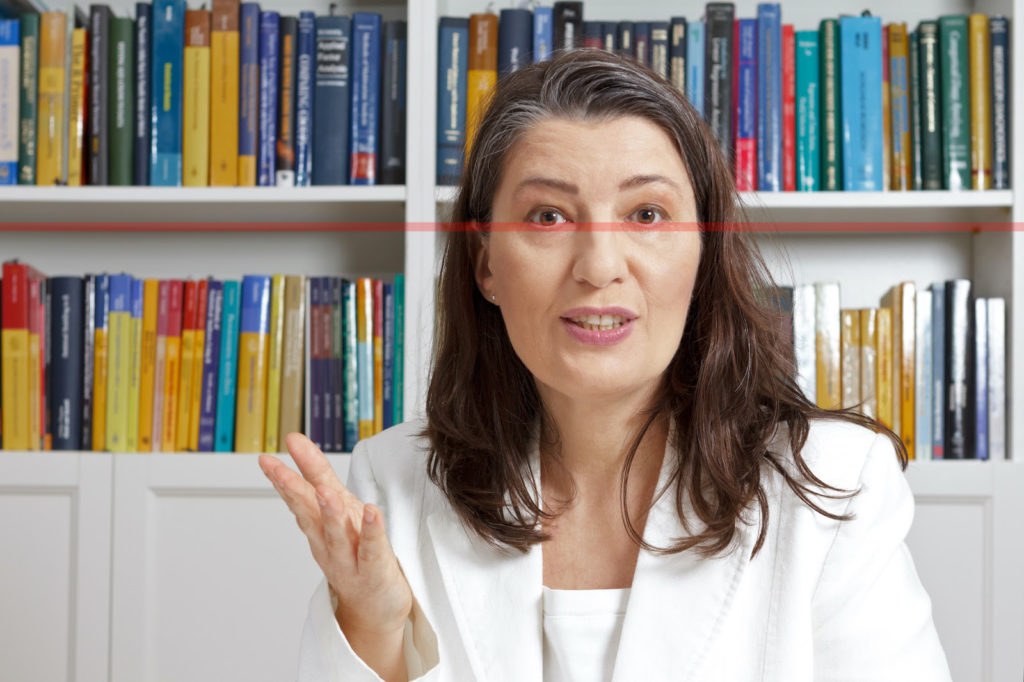 ---
Tidy-Up The Background
This one seems obvious, but it's easy to forget in the moment. A home "office" can get messy, and sometimes your kids leave clutter behind. Don't distract your audience with a mess in the frame – a quick cleanup can work wonders! It's also a good idea to close your desktop and/or phone apps, etc., to ensure you are engaged and limit distractions for everyone.
---
Adjust Audio
Audio can be tricky, especially if you've got pets and kids to contend with. Try your best to distance yourself from background noise, but if you can't escape, use headphones with a built-in microphone. With the mic closer to your mouth, your voice should come through more clearly. And be mindful to turn off your cell alerts, email sound, music, etc., to minimize distractions.
---
Even while we're apart, making that human connection is as important as ever. And at the end of the day, video allows us to achieve this better than with any other medium. If you're looking for some extra creativity and expertise, fill out the form below to schedule a free strategy call with our team.