So, you just met someone, and you're trying to break the ice. You may start with a few questions, like: Where did you grow up? Where do you live now? What do you do for work? What do you do for fun?
Each question gives you valuable information about who the person is — details that can help you make a stronger connection. For example, if you both love craft beer, boom, you can attend an upcoming craft beer festival together and bond over your shared passion for suds.
Now, think of a time when someone showed you that they know you inside-out. Maybe they gave you a first edition copy of your favorite book or tickets to see your favorite band. It probably felt pretty excellent to be truly seen by that person and to witness the effort that went into tailoring a gift or experience specific to your interests.
That's why we build buyer personas.Knowing your ideal customer like the back of your hand is the key to your marketing's success. In fact, 82% of companies that use buyer personas improve their value proposition, and websites that are built using personas are 2-5 times more effective (and considered easier to use by targeted users). Sounds pretty awesome, right? Now, the big question: How do you do it? Let us show you the way.
First off, what is a buyer persona?
A buyer persona is a fictional representation of a brand's ideal customer defined in the early stages of a marketing strategy, based on data and research. Personas illustrate your target audience, highlighting their pain points, goals, characteristics and key insights that will resonate with them most. Ultimately, buyer personas inform custom messages about products and services that make the buyer feel an emotional connection to the brand.
What makes up a buyer persona?
Buyer personas can include a wide range of data about a target audience, including demographics like age, gender, income, occupation, number of children and more. Those stats are essential, but it's also very important to dive into more qualitative audience details to inform your marketing efforts. What do they care about? What keeps them up at night? What are their goals? What content do they consume? Where do they consume content? Intricate details like the media channels your audience uses and the hours spent on a platform can help create and launch effective marketing campaigns that stand out amongst the competition.
How Matter Creates Buyer Personas
We have several tried-and-true methods of gathering data to create personas. We conduct both internal stakeholder interviews with those who know their customers best, and customer interviews to ask the audience directly about their activities, challenges, wants, influences, content habits and more. Additionally, we pull data from trusted vendors to learn more about the target's demographics, lifestyle, hobbies, personal values and media consumption.
Once the data is collected, the persona begins to come to life. We assign a name to each persona, add a picture that matches their demographic description and craft a background narrative based on key insights — creating a real-life snapshot that closely resembles the buyer persona.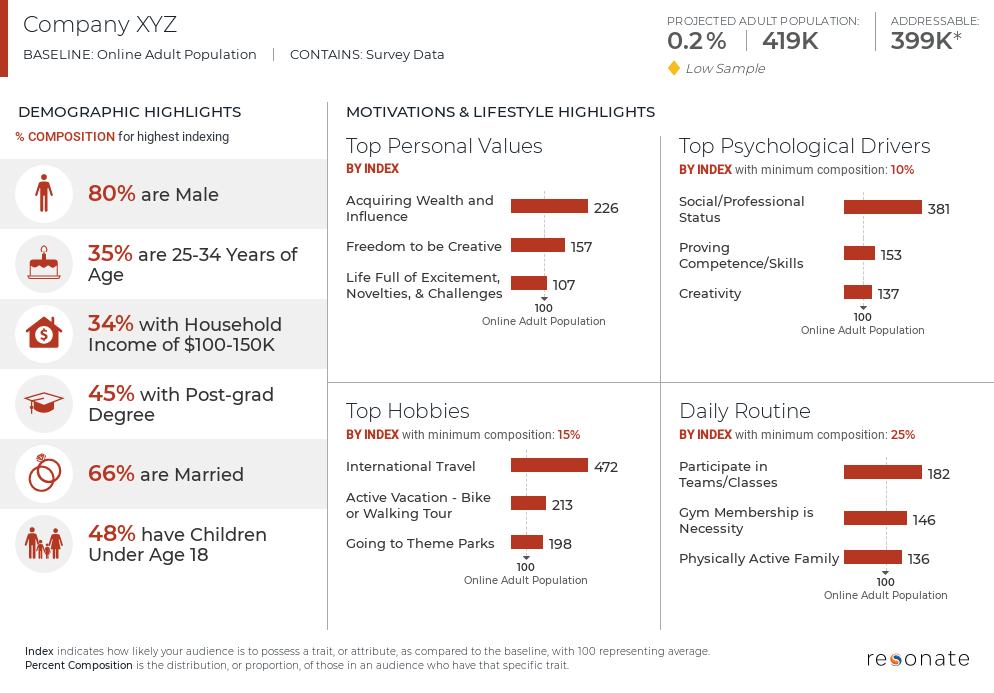 How to Use a Buyer Persona
To develop an effective marketing strategy that will attract a brand's desired audience, we put our buyer personas to work. These personas allow a brand to create custom messaging for each of its target audiences' unique perspectives. They also identify a content strategy that provides each target audience with assets that speak to their unique challenges and needs. And when it comes to developing campaigns, personas provide the basis for targeting your key audience in paid advertising programs.
By using personas, brands can maximize the effectiveness of their marketing strategy, create consistent messaging and build assets across channels that speak directly to their audiences' preferences. The result: increased audience engagement and more high value leads.
Start Building Your Own Personas
Try building a persona for your brand. Here are a few questions to ask your target audience:
B2B PERSONAS:
What are the biggest challenges in your job?
What are the goals for your department?
What type of industry content do you consume?
Where do you consume content or industry news?
What solutions or tools would make your job easier?
B2C PERSONAS:
What are the biggest challenges in your day-to-day life?
What are your hobbies?
What are your goals?
What platforms do you use to consume content?
To learn more about how you can build buyer personas to boost qualified leads and what other integrated marketing tactics your brand could benefit from, fill out the form below to chat with one of our digital marketing strategists.