Amidst an uncertain economic future, healthcare leaders are reflecting on lessons learned in 2022, building out budgets for 2023, and planning for the year ahead. As the country contends with a health system that many believe is broken, both established and emerging organizations across the healthcare continuum are learning the value of putting the patient first, above all else.
At this critical moment in the evolution of healthcare in the United States, the Matter Health team is looking back at some of the most impactful trends and developments the healthcare space experienced in 2022 and looking ahead at some of the things to expect in the new year.
With over 40 client partners operating across the healthcare industry, our team has an extensive and unique perspective on the ways healthcare organizations are operating amidst a rapidly evolving landscape, and the role of PR and communications and marketing within it.
Here are a few observations from the people that support the critical organizations that are working to create better healthcare for all.
Healthcare Marketers Remain Bullish About the Future
Despite the market challenges and economic uncertainties, the findings from Matter's recent 2023 Marketing Outlook Survey found that 89% of chief marketing officers (CMOs) and senior marketing executives plan to increase marketing spend in 2023. The survey respondents, which included executives in healthcare, B2B technology, and retail industries, expressed a bullish attitude toward marketing in the new year with nearly half (44%) planning to increase investments substantially, signaling competitive opportunities for brands.

The findings underscore how marketers understand that the short-term relief of cutting marketing and advertising spend can cause long-term strain on sales, brand awareness and support, and customer trust. The survey found that, across several industries including healthcare, organizations are prioritizing investments in high-ROI tactics to drive leads by offering consistent, high-value content to their audiences.
When asked to rank the top three areas that saw the greatest ROI in 2022, 69% of marketing executive respondents ranked PR and social media as number one, 49% named content marketing as number two, and 39% named video marketing as number three. Building upon successes in 2022 and to optimize ROI in 2023, integrated PR and marketing strategies will reign supreme.
And given the current economic climate, unsurprisingly, nearly one-third of respondents indicated that economic uncertainty is one of the biggest challenges facing marketing programs in 2023. In addition to the specter of a full-on recession, Matter has identified the following trends that we predict will continue to impact the healthcare space in 2023.

The Healthcare Arms Race
Accelerated by the outbreak of COVID-19 and the renaissance of innovation that blossomed from it, traditional players in healthcare have been inundated by the rapid emergence of competition from big tech players and retailers like Amazon, Google, Walgreens, and Walmart. While challenges and concerns of quality come with it, these additions to the competitive landscape along with the capitated care model and the proliferation of convenient options like urgent care centers and telehealth, patient consumers have more options to choose from and easier access to care than ever before.
As retail and tech companies continue to invest billions in healthcare acquisitions, delivery, and infrastructure, traditional players in healthcare that fail to make strategic gains in technology to streamline workflow and augment capacity, as well as marketing tactics to connect and engage with patients will be left behind. In addition to this example that focuses primarily on healthcare providers and patients, similar scenarios exist for pharmaceutical manufacturers, biotech companies, payers and benefits management firms, and virtually every other sub-sector of healthcare.
The Emergence of Value-Based Care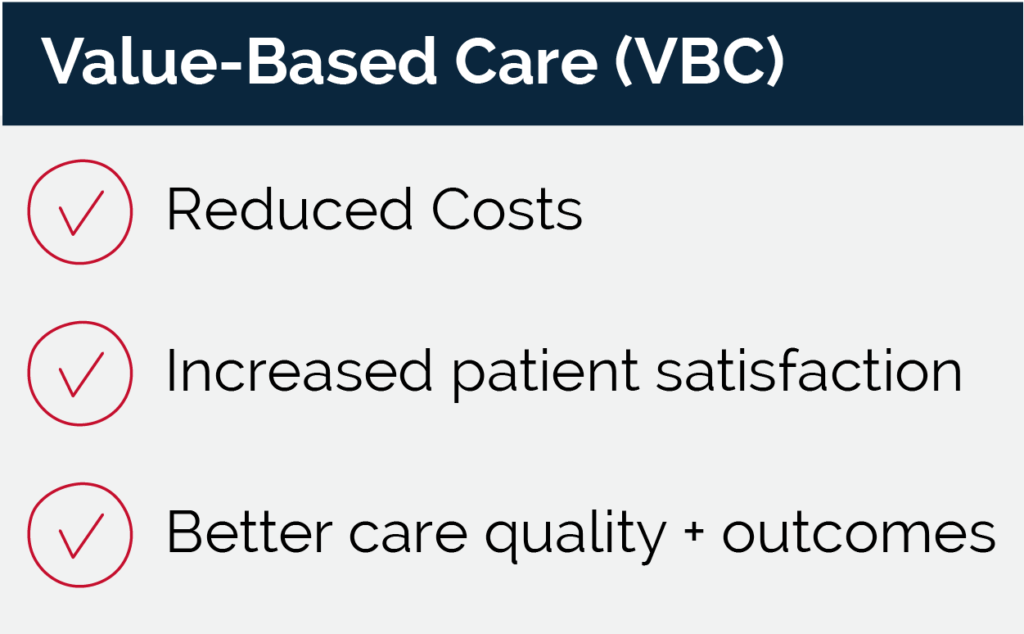 Bringing with it the promise of reduced costs, increased patient satisfaction, and better care quality and health outcomes, the value-based care (VBC) model will continue to shape the healthcare landscape. By focusing on driving better care quality and outcomes for patients, and garnering industry support and participation in new payment structures that reward providers based on those outcomes, the growing support and proof behind VBC has the potential to overthrow the current fee-for-service (FFS) system that has locked us in a quantity over quality mindset for decades.
With a model that values quality over quantity and rewards providers for helping patients become healthier, and at a time when financial strains are at an all-time high, the potential for cost savings for providers has never been more attractive and essential than it is now. In one example, the U.S. Department of Health and Human Services (HHS) reported that ACO programs in 2015 had saved $417 million for Medicare, and VBC payment models helped reduce hospital readmissions in Medicare beneficiaries by 8%. Then, in 2020, the National Association of ACOs reported that these savings increased 10-fold to $4.1 billion.
Improving outcomes and cutting costs will be at the top of the priority list for providers, payers, patients, and all healthcare stakeholders in 2023 and the VBC model will be a catalyst for that change.
Recruiting and Retaining Talent
The healthcare industry, particularly hospitals and health systems, have been hit hard by workforce burnout, staffing shortages, and a shrinking pool of talent available to fill open positions. Additionally, the pandemic has had lingering effects on job satisfaction for clinicians and their support staff as well as across all sectors of healthcare.
And, as employees continue to spend more time in the office versus working remotely, employers should also prioritize mental health in the workplace. According to a study by McKinsey, more than one-third of employees reported having negative mental health effects after returning to on-site work.
In 2023 and beyond, organizations will prioritize meeting the wants and needs of workers to compete in the tightening search for talent – from embracing flexible and contained work schedules, to offering robust benefits, competitive pay and encouraging a better work-life balance for employees.
Companies can also address limited human resources by utilizing technology to automate administrative tasks as much as possible to enable team members to focus on more satisfying projects or to perform functions that require a human touch such as person-to-person customer service.
You Don't Have to Go It Alone
As 2023 unfolds amidst extreme financial pressures, economic uncertainty and ever-changing market climates, organizations that develop nimble strategies to promote their value proposition and foster meaningful connections with their audience will be well-positioned to thrive. The healthcare industry is in flux, but healthcare marketers are accustomed to feeling the squeeze to deliver ROI and value during times of immense pressure and varying challenges.

Lastly, your organization doesn't have to go it alone. For two decades, Matter has seen what works and what doesn't work during unpredictable times and market downturns. And, drawing on our experience working closely with dozens of brands in your market, impactful communications and well-strategized marketing may prove to be the most significant drivers of ROI in the uncertain times that lie ahead.