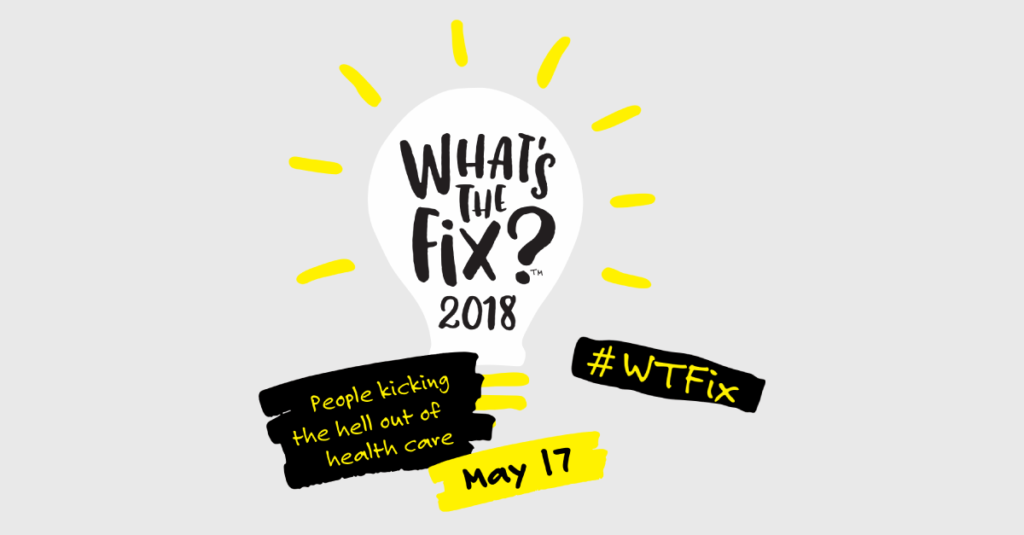 https://whatsthefix.info/conference/ and share your experiences, tips and tricks, or ask for advice. You can also interact with the community at any time, by simply using the hashtag #WTFix.
Co-presented by HealthSparq and the Design Institute for Health at Dell Medical School, What's the Fix? is creating a patient-focused movement to "kick the hell out of healthcare." Speakers will cover a wide range of topics, including but not limited to navigating medical bills, accessing mental health, managing your medical record and accessing specialty care. What's the Fix? also announced the addition of digital host, Amber Soucy (@WheezyNurse), a registered nurse and well-known health blogger and vlogger. Soucy will act as an emcee and interact with both the online and in-person audiences, serving as a point of connection between the two groups. She will interview speakers and attendees, collect and ask questions on behalf of the online audience and create digital-only content to keep them engaged throughout the event.
In the spirit of the sharing, I recently found myself at my wits end trying to access care. Despite the fact that I am fortunate enough to work with some of the most cutting edge healthcare technology companies, providers and insurers, I am not immune to healthcare's WTF moments. I was reminded of this recently when trying to change primary care providers and have my records transferred. Despite the fact that everyone is, or should be, on an electronic health record (EHR) at this point, I had to make no less than a dozen phone calls and send three separate faxes of hand written release forms just to get MY RECORD. This was all after my former provider insisted that I must drive to their office and collect MY RECORD in person. WTF crossed my mind several times throughout the three week process, at the end of which I just wanted to schedule an annual physical with a new doctor. This WTF experience gave me a whole new appreciation for those trying to manage chronic conditions or older American's trying to navigate clunky patient portals. It is also why I will be virtually participating in the #WTFix event tomorrow.
At Matter we share in #WTFix's passion for healthcare transformation, which is why we choose to partner with so many genuinely innovative brands and organizations focused on meaningful change. We are proud to work with organizations that are genuinely concerned with the "greater good." While healthcare is rife with amazing, heart-warming stories and those working in the industry are for the most part great, well-intentioned and capable professionals, it is hard to argue that as an industry we have a lot of room to improve. We truly believe that positive change in healthcare, or really anywhere, will start with and open discussion, which is why we are so proud to support #WTFix and everyone in the community at the event tomorrow.
If you have any questions about the #WTFix conference you can reach out to Josh Payne at jpayne@matternow.com.
If you are an organization looking to make a real change in healthcare and would like to bolster your PR and marketing efforts you can reach out to Ryan Lilly at rlilly@matternow.com.