We often counsel our PR clients in times of crisis. With the rate at which news travels, it's imperative to quickly respond and take control of a negative situation – before it takes control of the narrative. This hyper-aware and "always-on" mindset is not just important for companies reacting to their own bad news, but also for responding to a competitor's PR nightmare.
Recently we've seen companies like Delta and Lyft reaping the benefits of responding quickly to competitor missteps. What it boils down to is preparation and having a crisis communications plan in place – a key step that United, Uber, and many companies often overlook – or don't execute well, if there was in fact crisis planning — opening the door for competitors to capitalize on the situation. Let's take a look at two very different approaches to hijacking competitive news: throwing a cheap shot and taking the high road.
Delta Responds to United Airlines Dress Code News
On Sunday, news spread that United Airlines stopped girls in leggings from boarding a flight, and the Internet went wild. It was first reported by on-board passenger Shannon Watts who took to Twitter to express her dismay about the situation.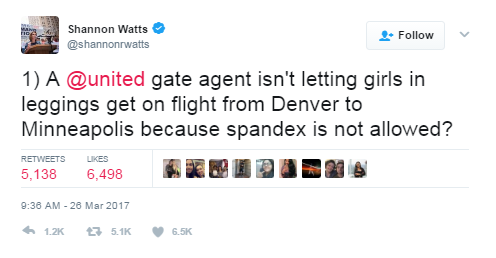 average 2,000 daily mentions to 174,000, with nearly 70 percent of them negative.
Delta Airlines watched United's rapidly sinking ship and seized the opportunity. The outcome was a snarky tweet, "Flying Delta means comfort. (That means you can wear your leggings.)," which to-date has garnered more than 118,000 likes and 31,000 retweets.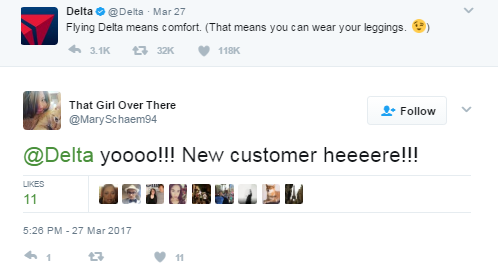 #DeleteUber is the hashtag heard around the Twitter world that showcased a public purging of the Uber app in response to a variety of company scandals. First there were accusations of Uber of trying to profit from a taxi driver protest against President Donald Trump's immigration ban. Next, a published blog post from a former engineer unveiled the sexual harassment and discrimination she endured while at the company. And the cherry on top was the video of Uber CEO caught on video being a jerk to a driver.
As Uber's user count decreased by the thousands, Lyft strategized ways to capitalize on the opportunity, taking the high road with tasteful response tactics. When #DeleteUber was first initiated after the immigration ban, Lyft pledged $1 million to the American Civil Liberties Union resulting in a 30 percent increase in riders. Uber, meanwhile, had a 10 percent dip in riders around the same time, according to 1010data.
Washington Post)
Most recently, Lyft announced a new program "Round Up & Donate." Users can opt-in to automatically round up their fare to the nearest dollar and donate it to charity. In a world where "good is the new cool" and younger generations demand increased social responsibility from brands, this was a smart move. Personally, I feel more inclined to request a ride from Lyft over Uber knowing the brand's commitment to citizenship.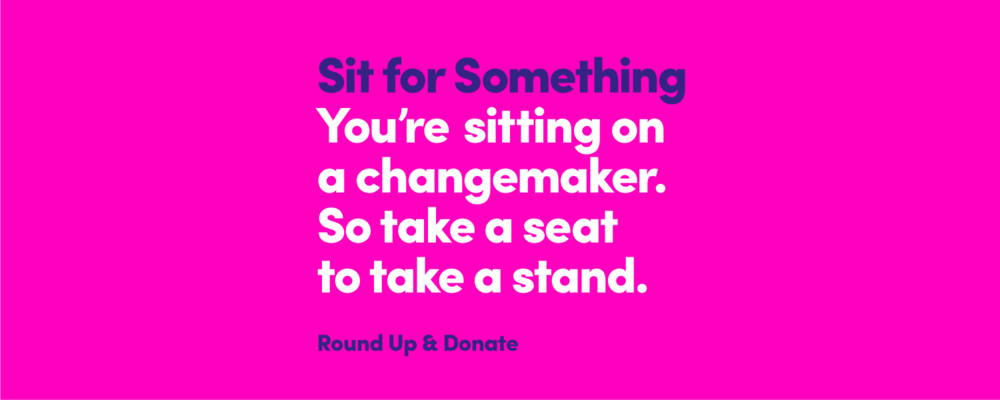 reevaluate their corporate values. We'll have to watch closely as the underdog Lyft takes on Uber in a classic tale of "good" vs. "evil." No matter the outcome, Lyft's marketing and PR teams deserve a standing ovation for their performance lately.
PR Lessons Learned
We can all empathize with the PR teams for United and Uber, and many of us think about how we personally would have responded in those situations. A key takeaway here is that as PR professionals, you must first be in-tune to what is going on internally and externally. You must respond to the crisis or opportunity at hand very quickly. Whether that response is snarky or dignified, the public will take control of your message if you don't, so preparation is key. At the bare minimum, know who needs to be involved in the decision-making process when crisis ensues because those designees will need to be called on immediately.
Yes, you've got to move fast, but you've also got to be thoughtful and deeply consider the long-term impact a response will have on your company. Lyft, for example, aligned their thoughtful responses to the overall brand values, creating a strategy people could easily get behind. This two-steps-ahead thinking is what we call smart PR and what we strive for with our clients daily.