As the year concludes and we prepare to to tie all loose ends before we start fresh for next year, we would like to take a step back and proudly reflect upon Matter's contributions in community outreach for the year 2017.
Surpassing Company Goals
Paid volunteer time is one of the many distinctive perks that help our firm further establish itself as a company that encourages its employees to give back and offer valuable service to the community. Our Director of Human Resources, Danielle Conlin, reports that we had set the goal of reaching 1,000 volunteer hours for the year 2017 and we well surpassed this goal, as we're on target to fulfilling 1,100 hours by November 30.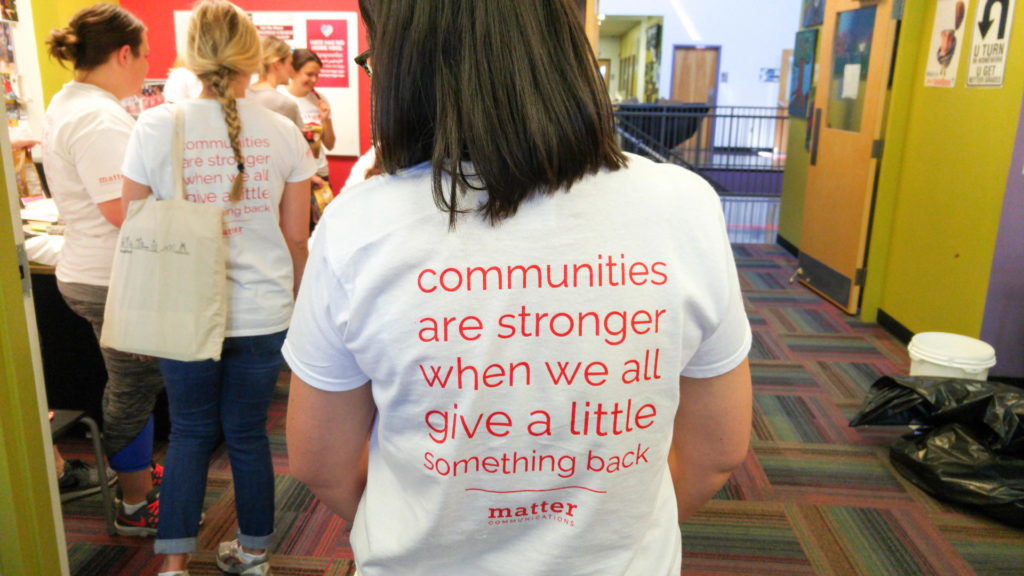 Deloitte Volunteer IMPACT Survey, 92% of surveyed corporate human resource executives agree that contributing business skills and expertise to a nonprofit can be an effective way to improve employees' leadership and broader professional skill sets. (1).
Through volunteering, the connection and benefits earned between our team members and the organizations we work with is symbiotic. We earn just as much as we give, and it is for this reason that being involved with volunteering is essential towards our advancements and success as a team.
In conclusion to our collection of successes for volunteering in the year 2017, we are thrilled to prepare for our volunteer initiatives for the year 2018. We are aspiring to bring in even more volunteer opportunities and contributions for the new year, keeping involved with our current causes and projects while also branching out and finding new movements and organizations to partake with. We are open to suggestions and encourage our employees to share ideas for new volunteer opportunities and projects.
Matter would like to thank all of the organizations that have invited our team members to volunteer with them for this year. We encourage you to continue to follow along with our volunteer projects and community involvements by following our blog and our social media handles.
LnRiLWNvbnRhaW5lciAudGItY29udGFpbmVyLWlubmVye3dpZHRoOjEwMCU7bWFyZ2luOjAgYXV0b30gLndwLWJsb2NrLXRvb2xzZXQtYmxvY2tzLWNvbnRhaW5lci50Yi1jb250YWluZXJbZGF0YS10b29sc2V0LWJsb2Nrcy1jb250YWluZXI9ImRkMjVhZjRiNzYzZTQ3YjY4ZGZmY2Y2ZGRjODRiNTY5Il0geyBiYWNrZ3JvdW5kOiB1cmwoJ2h0dHBzOi8vd3d3Lm1hdHRlcm5vdy5jb20vd3AtY29udGVudC91cGxvYWRzLzIwMjAvMDUvRG9vZGxlX1NjZW5lc18wLjA1LnBuZycpIGNlbnRlciBjZW50ZXIgbm8tcmVwZWF0O2JhY2tncm91bmQtc2l6ZTpjb3ZlcjsgfSBAbWVkaWEgb25seSBzY3JlZW4gYW5kIChtYXgtd2lkdGg6IDc4MXB4KSB7IC50Yi1jb250YWluZXIgLnRiLWNvbnRhaW5lci1pbm5lcnt3aWR0aDoxMDAlO21hcmdpbjowIGF1dG99IH0gQG1lZGlhIG9ubHkgc2NyZWVuIGFuZCAobWF4LXdpZHRoOiA1OTlweCkgeyAudGItY29udGFpbmVyIC50Yi1jb250YWluZXItaW5uZXJ7d2lkdGg6MTAwJTttYXJnaW46MCBhdXRvfSB9IA==
Interested in working with us? Let's talk.
Join Our Team
Ready to watch your career take off? See our openings.
Our Agency Culture
We are cross-country collaborators. We are media mavens and marketing mavericks. We are shuffleboard aficionados.