Back in 2020, the future of Out-of-Home (OOH) advertising wasn't looking so good. With exponentially fewer people out and about, OOH ad exposure all but vanished. Commuters stopped heading to the office, consumers flocked to online shopping and travelers cancelled flights, leaving highway billboards, grocery store posters and airport taxi ads unseen.
In this disrupted landscape, marketers did what we do best – we adapted and focused on other ways to engage our audience. For many media planners, that meant leaving OOH behind. Ad revenue for the medium declined 13.3% by the end of the year, making it the steepest drop in OOH spending the industry had ever seen.
Fast forward to early 2021 – vaccines became widely available and many began feeling more comfortable leaving their homes regularly. Audiences had spent a whole year consuming primarily digital media. Screen overload from online classes, Zoom calls and phone time continued to impact digital ad results. 75% of consumers reported unprecedented levels of screen fatigue, stating they spent so much time looking at screens they began tuning out digital ads altogether.
It was truly the moment our archived OOH strategies had been waiting for. Today, 55% of consumers in large cities have reported noticing out-of-home ads more than they did pre-2020. This incredible growth has brands of all shapes and sizes looking to introduce or re-introduce OOH into their strategy. So, how can brands take action and hop aboard the OOH resurgence train?
Here are our three strategies for planning OOH ads in this new climate.
1. Use OOH to expand awareness.
As marketers, we tend to leverage most OOH advertising as an awareness driver, especially when it comes to geo-targeted campaigns. The industry saw a large revival of this approach as people returned to their routines throughout 2021, triggering a 13% increase in OOH spending year-over-year.
Throughout 2021, our Integrated Media team worked on a project meant to drive awareness of special access to free at-home COVID-19 tests. The goal was complete audience saturation and awareness in hyper-focused geographies like Chattanooga, TN, Atlanta, GA, Merced County, CA, and more. We wanted everyone aware of their access to free testing, and OOH played a key part in our strategy. Through a robust media mix including traditional/digital/mobile billboards, public transportation ads, residential door hangers, posters in retail shop windows and Gas Station TV ads, survey data indicated the campaign generated 80% awareness of at-home test kits within target markets.
2. Leverage mobile location data of your audience.
As OOH continues to flourish, marketers can take an audience-first approach to OOH placements. Through a wide array of data-driven solutions, we can now utilize anonymous, aggregated mobile location data to better understand consumer mobility, behavior and campaign impact.
For our strategy with the at-home testing project, we leveraged this approach with one of our more unique and non-traditional OOH placements: Gas Station TV. Through anonymous mobile data, we were able to retarget users digitally that had physically been to the gas stations where we were running these ads and create another touchpoint, presenting them with a simple way to engage and click over to order the test kits. We saw exceptionally high click-thru rates with these retargeting ads, as well as very strong conversion metrics (10%+) when it came to these users ordering test kits.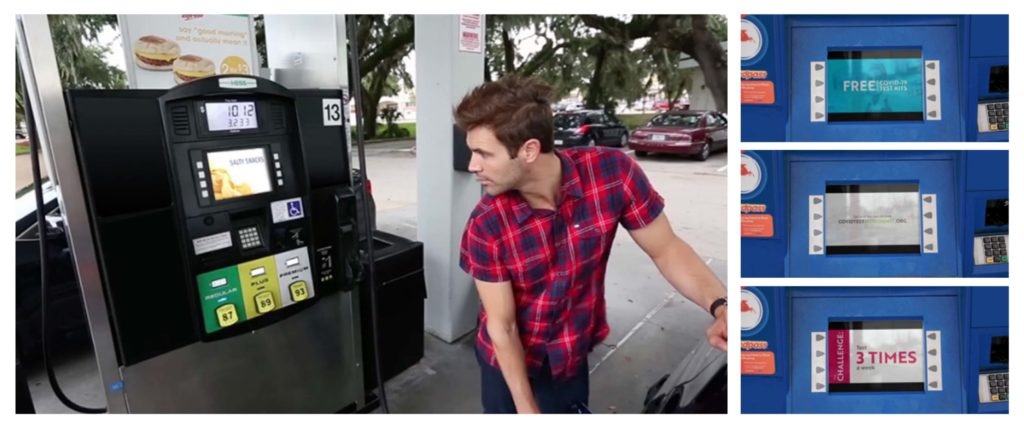 3. Expand CTV/OTT strategy in key geographies with OOH.
Video advertising through Connected TV (Smart TV, gaming devices, etc.) and Over-the-Top (OTT) — streaming platforms like Hulu, Netflix, Peacock — grew an estimated 40.6% in 2020. And that momentum isn't expected to slow anytime soon. However, considering the screen fatigue we mentioned, your CTV/OTT ad may be a blur to certain members of your audience. Consider the impact of adding an OOH strategy in key cities or regions to create multiple touchpoints and combat screen fatigue. If someone sees your logo on a billboard as they commute to work, it will likely resonate that much more when they go home and see your brand again on Hulu. Stand out from the countless other CTV/OTT ads your target audience sees every day!
This expansion of video strategy was also integral to our plan for the at-home testing project. While video ads (television, CTV/OTT) were reported as the top awareness driver by most of our survey respondents, it was also mentioned that billboards, bus ads and other OOH placements helped drive the credibility of the project. After seeing physical ads across their community, some survey respondents reported becoming more comfortable with exploring the offer in detail.
OOH capability and popularity is growing rapidly – and developing a robust plan using these three strategies will certainly help your brand harness the resurgence of Out-of-Home. Reach out to our Integrated Media Team today to learn more!
Campaign in partnership with Complex Stories.