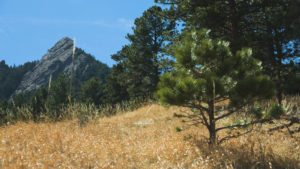 Our Boulder Colorado office on the vibrant Pearl Street Mall is Matter's fourth satellite office. We chose Boulder for its strategic location (Denver, the fastest growing large city in the nation, is just 45 minutes away), renowned livability, and for the amazing opportunities within its open and collaborative startup ecosystem. While the big players in tech have a strong presence here (Google, Twitter, IBM), it's undeniable that the startup scene, fostered in part by incubators like TechStars and Galvanize, are at the root of Boulder's dynamite economy. Boulder's startup mentality can be traced back to it's founding days as a town for intrepid gold seekers and later as a bastion of progressive and independent thinking. Our slogan – "Be Boulder" – is apt because it reflects the town's values – free thinking, audacity, and care for the community, both local and global.
This ethos is celebrated most prominently during Boulder Startup Week which over five days hosts 200 free and open events, ranging from a VR Happy Hour to a Hike With Foodie Founders. Not only is it a free crash course in how to build and run a startup the right way, but it's also a great opportunity to mingle, network, find collaborators, co-founders, and engineers.  Matter is proud to sponsor this amazing annual event, you'll get a sense of the festivities from this promo we produced for BSW 2017.
One frontier with incredible potential that many local startups are beginning to unlock is legal marijuana. The combination of legalization (five years ago now) and Colorado's strong entrepreneurial streak has led to a booming marijuana industry, valued at over a billion dollars. No matter your personal feelings about legalization, the reality is that it's a massive and largely unsettled market that will only continue to grow. Matter feels it's important to support the companies in this arena that are driven by principled care. We're proud to be working with start-ups like NanoSphere Health, who are on the cutting edge of therapeutic nanoparticle delivery systems for cannabis.
Boulder is a great home for Matter because it's a hot spot for countless entrepreneurs and creatives; just the kind of people we love to help. We're pleased to now offer video production out of our Boulder location, so if you're a budding (or established) entrepreneur or startup we'd love to grab a coffee and learn about why you too choose Boulder as your place to launch something special.
See our recent work and learn about our video capabilities.
LnRiLWNvbnRhaW5lciAudGItY29udGFpbmVyLWlubmVye3dpZHRoOjEwMCU7bWFyZ2luOjAgYXV0b30gLndwLWJsb2NrLXRvb2xzZXQtYmxvY2tzLWNvbnRhaW5lci50Yi1jb250YWluZXJbZGF0YS10b29sc2V0LWJsb2Nrcy1jb250YWluZXI9ImRkMjVhZjRiNzYzZTQ3YjY4ZGZmY2Y2ZGRjODRiNTY5Il0geyBiYWNrZ3JvdW5kOiB1cmwoJ2h0dHBzOi8vd3d3Lm1hdHRlcm5vdy5jb20vd3AtY29udGVudC91cGxvYWRzLzIwMjAvMDUvRG9vZGxlX1NjZW5lc18wLjA1LnBuZycpIGNlbnRlciBjZW50ZXIgbm8tcmVwZWF0O2JhY2tncm91bmQtc2l6ZTpjb3ZlcjsgfSBAbWVkaWEgb25seSBzY3JlZW4gYW5kIChtYXgtd2lkdGg6IDc4MXB4KSB7IC50Yi1jb250YWluZXIgLnRiLWNvbnRhaW5lci1pbm5lcnt3aWR0aDoxMDAlO21hcmdpbjowIGF1dG99IH0gQG1lZGlhIG9ubHkgc2NyZWVuIGFuZCAobWF4LXdpZHRoOiA1OTlweCkgeyAudGItY29udGFpbmVyIC50Yi1jb250YWluZXItaW5uZXJ7d2lkdGg6MTAwJTttYXJnaW46MCBhdXRvfSB9IA==
Interested in working with us? Let's talk.
Join Our Team
Ready to watch your career take off? See our openings.
Our Agency Culture
We are cross-country collaborators. We are media mavens and marketing mavericks. We are shuffleboard aficionados.