Before you go to the grocery store, you check your fridge to make sure you don't wind up with four cartons of eggs – again. When you build a marketing plan for your brand, you're going to want to conduct an audit. Brand audits are the fridge-checks of marketing.
In marketing, audits reveal areas of opportunity, trends in the market, background on an industry, target audience information and unique brand features. The details and insights your brand may uncover during an audit are extremely valuable when it comes to developing your brand and marketing strategy. Similar to taking fridge inventory before shopping, you may review your brand's Instagram posts to get a sense of the messages, images and brand info that's been shared to determine if it's resonating with your target audience, if it's following best practices and if it's driving results for KPIs.
Ultimately, the goal of a brand audit is to provide a holistic view of your marketing operation, analyze your competition and inform a brand and marketing strategy that positions you to reach your goals.
Main types of marketing audits:
An audit can include many things, and the type of audits you execute may vary depending on your brand's needs or project goals. When beginning any form of an audit, it's important to conduct one-on-one interviews, focus groups or research studies with both internal subject matter experts at your organization and with your customers. You should ask them questions about your brand and products or services, and try to learn more about their experiences. Additionally, ask them about their pain points, goals and values. Gathering information directly from your customers can help you build buyer persons, plan for messaging and more.
Next, you'll want to conduct various audits of your existing marketing. For our fully integrated clients, we recommend the following types of audits:
Messaging Audit: Analyze the messages and sentiments in the marketplace about your brand and your products or services. Understanding how your brand is being portrayed will help to identify areas of opportunity, as well as highlight what's being done successfully. ​

Content Audit: Review the content assets being used to drive your marketing objectives. Whether it's to educate prospects on your solutions or drive leads to convert, this is a crucial step in understanding how to best leverage your current content, and how you can improve new content. All these details will inform your content marketing strategy.
SEO/SEM Audit​: Assess your website's organic and paid search rank in a search engine to provide insights and optimizations that will improve how your prospects find your brand. Additionally, you'll be able to understand where you rank for the keywords that are relevant to your industry. An SEO/SEM audit can also provide insights into what your audience is searching for.
Social Media Audit​: A brand's social media presence often influences a prospect's first impression of the brand, meaning it can provide key insights for important optimizations. The audit should include both paid and organic social media to provide a holistic view of how the brand comes across to your customers.
Email/Marketing Automation Audit​: A lead-nurturing program using email is one of the best tactics to include in your overall marketing strategy to reach your goals. Review your current CRM/MAP to look for areas of opportunity to optimize emails, workflows, lists and your overall marketing automation system that fits in with the larger lead nurture strategy, content promotion plan or customer engagement efforts.

Website Audit​: This can encompass a variety of exercises, from audits of a website's messaging and content, to branding and design, to UX and technical audits. This in-depth exercise provides a 360-degree view of how your brand comes to life on one of the most important owned channels: your website.
Competitive Audit: After you've conducted the above audits for your brand, it's important to take an in-depth look at your competitors so you know where you stand against them — and how you can stand out in the market. Look at their website, messaging, positioning in the market, content and media channels (organic and paid search and social) to provide insights into how you can improve your presence and representation in each area. This can be as intricate as necessary and should focus on providing insights for the main goals for your marketing strategy.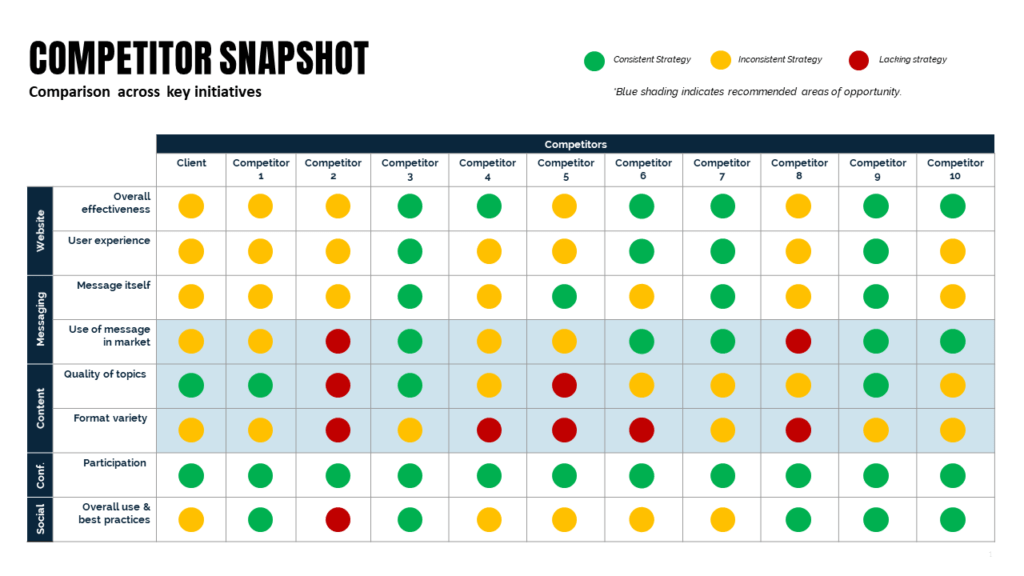 To gather the details necessary for a holistic marketing strategy that will help you achieve your goals, consider tapping into third-party research tools. These tools can provide the data needed to fully round out your strategy and support the insights gathered for the internal and external interviews and other audit findings.
Once you complete your audit, you'll have a holistic understanding of your position in the market, how best to highlight your unique value propositions to resonate with your buyer personas, clear direction on content and messaging, and so much more.
Brand audits are highly strategic and can be a cumbersome project for an in-house team to produce. Audits require a large time commitment, the right third-party tools and the brand strategy experts to conduct stakeholder interviews and research, analyze the marketing efforts, contextualize the data, and produce actionable insights that will help you develop a strong brand and marketing strategy. At Matter, our team of strategists help brands at all stages achieve their goals through these methods. Interested in learning more? Contact us today!