Are You AfrAId of the Dark? Our Scariest AI-generated Halloween Costumes for PR/Marketing Pros
By Rory Nolan + Nicole Raccuia
You May Live to See AI-generated Costumes Beyond Your Comprehension
Spooky season is upon us. And every year, folks like you, dear reader, come to us asking for help figuring out an appropriate costume to wear to work. To avoid scaring your coworkers (or getting a call from HR), we came up with some of the most terrifying marketing/comms-themed costumes your office Halloween party has ever seen. And we're doing it with the help of our newfound friend: AI.
Social Media Manager
The social media manager: internet extraordinaire, queen of the meme, master of the metaverse. From managing communities and posting schedules to helping develop posts, graphics, reels and more, these social media magnates really can do it all.
"To be a successful social media manager, you're constantly watching what's changing and what's trending across multiple platforms," says Jessica Boff, social media director at Matter. "To really help your clients reach and resonate with their audiences, you need to wear a lot of hats."
"A lot of hats." Now, that sounds like a good place to start for our social media manager costume! Let's see how AI handles that: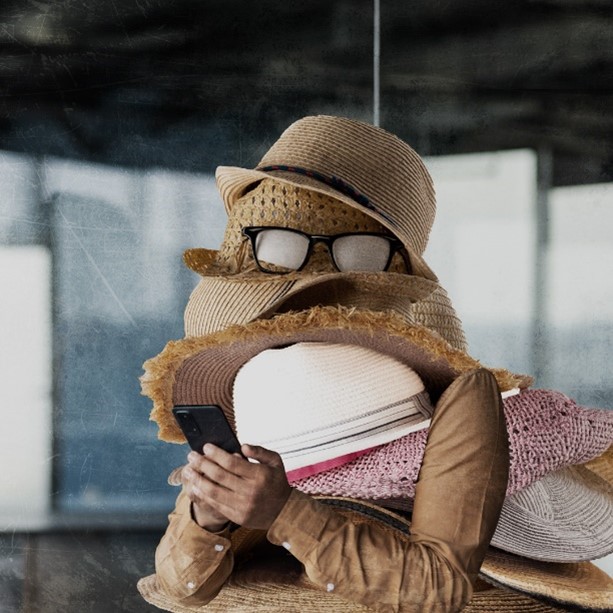 Well, looks like your local haberdasher is going to be very happy with you.
Video Producer
Our super-talented video team, Gusto, has some amazing producers. But nailing down exactly what they do proved a little challenging — there was so much ground to cover!
"Our video producers primarily oversee preproduction and production of our clients' video projects," says Colter Beote, Director of Operations + Client Relations for Gusto. "They're doing everything from crafting the production outline and schedule; hiring freelancers like hair stylists; coordinating huge teams via emails; and much, much more. Some are maintaining equipment rental budgets; others are setting up lights and capturing b-roll."
The AI was having trouble with the idea of "video producer" so we tried "camera person" and the results certainly gave us the vertigo effect.
So, without further ado: Lights, camera, AI!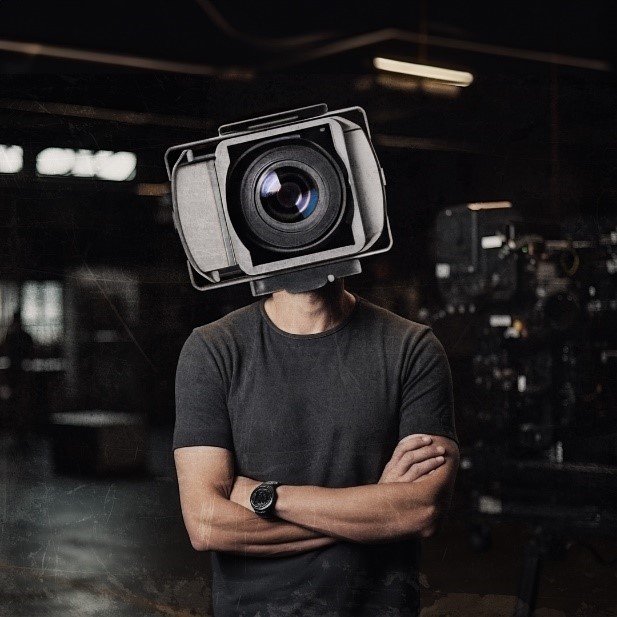 Account Executive
Matter's PR account executives handle more work than you can shake a broom at — everything from crafting press releases and running social campaigns to pitching journalists and ensuring our clients' names are making waves.
"They're scanning the news and social channels, they're interacting with journalists and acting as the primary media driver on each account," says Zoe Cushman, Account Manager at Matter. "If it needs to get done, they're the ones stepping up to do it. They're really the worker bees of our teams."
We liked the idea of a "worker bee" — maybe a nice, cute bee costume in a Matter hoodie. Let's see what the AI came up with!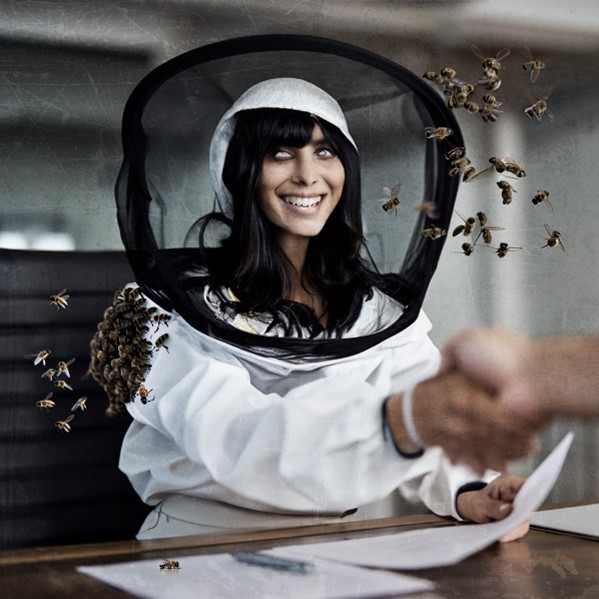 Well, like our AEs, this costume is certainly bzzzy.
Designer
Stunning creations: from our creative designers' minds onto the websites, brochures, advertisements and social posts you see every day. We thought this one would be a lot of fun for the AI – maybe a paint-splattered smock, a beret and a laptop repurposed as a palette. But the AI refused to render any costume, stating if designers think they're so creative, they can design a concept themselves.
Account Manager
At Matter, we have account managers on both our PR and integrated marketing client teams. These folks act as the lead liaison between their clients and the broader team, helping to make sure a variety of day-to-day campaigns and initiatives are driving results — from organizing a product debut event with a livestream component to launching a company rebrand with an interactive landing page to delivering key reporting metrics and media analytics that keep brands on top of the competition.
"They really need to understand their clients, their teams and the tactics that will help them all achieve their goals," said Julianna Sheridan, Account Director on our Precision team. "They're the captains of the strategy ship."
A ship captain costume — now who doesn't love a good Blackbeard of Captain Morgan getup? Let's plug in "captain of strategy ship" into the AI and see what comes out.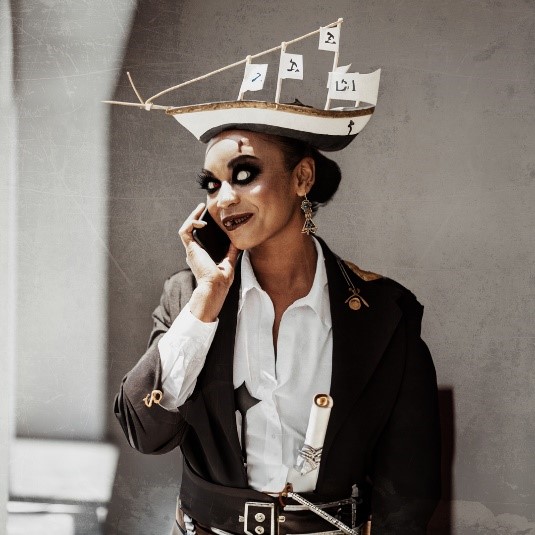 Avast ye mateys! Let's see what other costumes we can conjure up from Davey Jones Locker — err the AI.
Writers
In our unbiased opinion, writers are the most important people at Matter — better yet, at any agency. Maybe even throughout modern society. (Editor's note: this is highly biased.) We refused to write an AI costume prompt for "writers," because we're not about to let some robot take our job making jokes creating content for your consumption. So, we told the AI to go start singing Daisy Bell. It spat back an image of a person dressed as a coffee mug holding a pile of half-started novels. Touché.
New Employee
Truly the scariest thing we could think of being was a new employee. From meeting new people to learning new tools to trying out that new coffee spot everyone raves about, there are frights around every corner and within every meeting alert! And if you're listening to Gusto's haunting audio tale Unearthly Whispers, you may have come to this horrifying realization, too (fun fact, Unearthly Whispers is touched by an AI-ngel — find it today wherever you get your podcasts). But how did the AI think we should dress up as these fresh-faced cherubs?
In retrospect, using "cherub" as a prompt may have been a mistake.
Matter is always testing how emerging technologies advance our capabilities to better support our partners — you don't get to work with the awesome clients we do by being luddites. Currently, we're using the AI capabilities offered by Microsoft Office 365, Google Drive and Adobe Creative Cloud to support day-to-day drafting, design, reporting and more. Our teams also make use of numerous tools available online, leveraging generative AI, machine learning, natural language processing and other AI tools to refine prose and streamline research, edit copy, summarize video and audio recordings and draft press releases.
However, we recognize the irreplaceable value of our people's ingenuity, intuition and creativity. Just because we have an AI tool that could create a Halloween costume for account managers doesn't mean we should. From the 64,000-year-old pictographs in Maltravieso cave to Gusto's June Jorts newsletter illustrations, humanity's artistry and creativity are our defining traits. Art immediately conjures a sense of universal humanity whenever and wherever we see it. Whereas AI art struggles to replicate that human touch and instead throttles us uncomfortably into the Uncanny Valley.
And for that reason, we will continue to rely on our people's innate creativity to elevate our clients' brands. As our relationship with AI evolves, we will share updates with our partners. But rest assured, HAL won't be whipping up any design assets for you any time soon.
If you need creative support or simply want to talk about the nightmares you're having after seeing our AI Halloween costumes, reach out below!