The rise of ChatGPT has taken the world by storm, igniting a renewed societal focus on how artificial intelligence and machine learning will shape the future of work as we know it. An emerging technology trend hasn't captivated the global public sphere like this since the first iPhone release in 2007.
ChatGPT was a hot topic of conversation among business titans at World Economic Forum 2023 in January. Microsoft invested $10 billion to integrate it within its Bing search engine and product suite. Google launched a replica generative AI tool, Bard, in an attempt to keep pace and amplify its own search engine. Bill Gates even equated it to the invention of the internet, calling ChatGPT, "the most important innovation that will change the world."
The buzz is well warranted. ChatGPT amassed 1 million users in just five days after its initial November launch. Two months later, it surpassed TikTok (9 months), Facebook (10 months) and Instagram (2.5 years) as the fastest consumer app to eclipse 100 million active users. The chatbot can be prompted to do everything from passing law school exams and offering investment advice to crafting cocktail recipes and faux movie scripts. It even got hired – hypothetically, of course – as an entry-level coder.
ChatGPT also writes reasonably well, which has sparked skepticism across the PR and marketing landscape about its potential to replace human content writing roles. However, while it can generate clean prose in an authoritative tone mirroring a human's writing, there's no guarantee the content will be truthful, accurate or unbiased. A few media publications who were early adopters of generative AI-powered content were already forced to issue retractions due to "dangerous inaccuracies and falsehoods" found within the articles.
More importantly, ChatGPT is incapable of replicating the intrinsic nature of a human content writer, which means it doesn't incorporate any elements of human experience (HX) into the content creation process.
The Human Element
At Matter, ingenuity is a core component of PR content creation. Whether it's a targeted Forbes Technology Council article, an earned byline in Variety or an ROI-centric customer case study, our job is to:

It's not about prioritizing quantity over quality or repurposing rudimentary angles that can be easily found through a simple Google search. It's about collaborating with SMEs to zig while competitors zag and tell stories that uniquely position them as an invaluable source of truth across sectors. For executive thought leadership to rise above the noise in a saturated market, it must be crafted with an empathetic understanding for not only your client's mission and goals, but also the real-world business challenges faced by their target audience. The supply chain disruptions, data breaches, labor shortages, public health emergencies and technology fallibility. The ripple effects of geopolitical tension and the realities of socioeconomic pressure with a potential recession on the horizon.
Only boots on the ground can deliver impactful, brand mission-oriented content that aligns with those experiences. Not an AI chatbot relying on large language models from billions of predefined telemetry datasets, which – for the record – is in violation of Google's AI writing guidelines and subject to SEO penalties. When Business Insider recently asked ChatGPT for an opinion on its role in the future of content writing, here was the reply: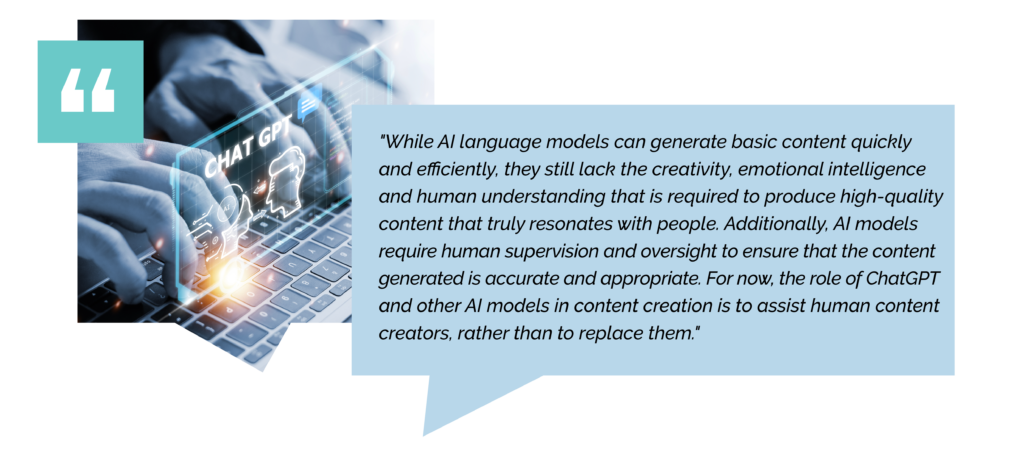 See, even the world-renowned robot agrees.
Explaining how AI/ML solutions are designed to empower humans, not replace them has been a core thought leadership angle across many of our B2B tech and cybersecurity accounts. With the way things are headed, we will soon be experiencing it for ourselves. And while ChatGPT isn't positioned to replace human content writers anytime soon, the recent generative AI wave does signal the beginning of a pendulum swing for technology's influence in content creation processes. It will change the way we work for the better.
Augmenting The Writing Process
The applied use of generative AI offers an opportunity to automate some of content writing's most mundane and repetitive tasks. Take drafting earned bylines for example. Considering most B2B byline angles are highly technical in nature, it typically takes hours of preliminary research and sourcing before putting actual pen to paper. But what if that entire phase of content creation was streamlined?
ChatGPT, in theory, could be prompted to conduct extensive research on a specific technology or subject matter – reducing the elongated preliminary sourcing process down to about 30 seconds. In turn, human writers have more time to focus on critical thinking and a higher baseline of knowledge and resources to leverage. This foundation reduces the immediate stress of meeting tight deadlines, which ultimately compounds into higher quality deliverables and better work-life balance.
The same logic can apply to other repetitive workflows like copy editing, outlining, data mining and intake calls. Microsoft Teams has a new premium version that incorporates ChatGPT into hybrid business collaboration, automating routine administrative tasks like notetaking, action items, customized meeting templates, timeline markers and more. Expect similar automation strategies to be applied to content writing.
Our content team will continue to explore how we can work in tandem with generative AIs like ChatGPT to amplify our offerings for B2B technology, cybersecurity, healthcare and consumer clients. For more information on Matter's full range of PR services, don't hesitate to contact us today!