While we might not all be familiar with the Roman poet Horace, we all know his famous phrase, "carpe diem." It's a great principle to live by, but in PR seizing the day isn't enough. You need to seize every moment, every trending story, every bit of news you can harness to elevate your client's standing. We're talking, of course, about newsjacking.
Successful newsjacking demonstrates your brand's expertise and thought leadership in your industry. By providing insightful commentary, expert opinions or valuable insights to the media related to breaking news, you establish your brand as a credible and authoritative source of information, helping to build visibility, trust and reputation.
But how's it done? And how do you get top-tier media to notice?
Successful newsjacking is a cocktail of three ingredients: speed, relevance and authenticity.
Speed
Capitalizing on news trends requires you to act fast. Newsjacking is time-sensitive, and being among the first to contribute your perspective will help you stand out. If you wait too long to contribute to the discussion, you'll merely be shouting in a room full of other loud, shouting voices.
"Newsjacking is powerful, but only when executed in real-time," said PR strategist David Meerman Scott. "It is about taking advantage of opportunities that pop up for a fleeting moment then disappear. In that instant, if you are clever enough to add a new dimension to the story in real-time, the news media will write about you."
Reporters are working against the clock and need commentary within hours, not days. Before you begin a newsjacking effort with your PR team, ensure you have a relevant expert available on demand to offer their unique perspective.
Think back to the March 23 U.S. House Committee for Energy and Commerce hearing, where TikTok CEO Shou Zi Chew answered a deluge of questions from lawmakers about data security, children's safety and content moderation. Within minutes of the hearing's conclusion, one PR team moved quickly to obtain commentary directly from its subject matter expert (SME) and pitched relevant top-tier reporters covering the story.
Because of their speed, the team was able to have their SME in the Wall Street Journal, Business Insider and USA Today.
Relevance
Relevance is key to newsjacking. News stories must be genuinely relevant to your brand or the SME's industry or expertise. Avoid forcing a connection that doesn't naturally align with your brand's mission. For example, an SME who hasn't worked in retail in 15 years has no place commenting on the latest retail store closings. Reporters will simply ignore the pitch.
Also, avoid forcing commentary that doesn't add value – reporters don't want more of the same. They seek bullish perspectives, a different spin and forward-looking commentary.
After Meta was hit with a $1.3 billion privacy fine by the EU, our team sent this pitch touting a source with recent, relevant expertise – and preloaded the email with quotes reporters could easily pull for their story. The result? We landed impactful coverage for the client in Bloomberg, The Drum, Information Week and Search CIO.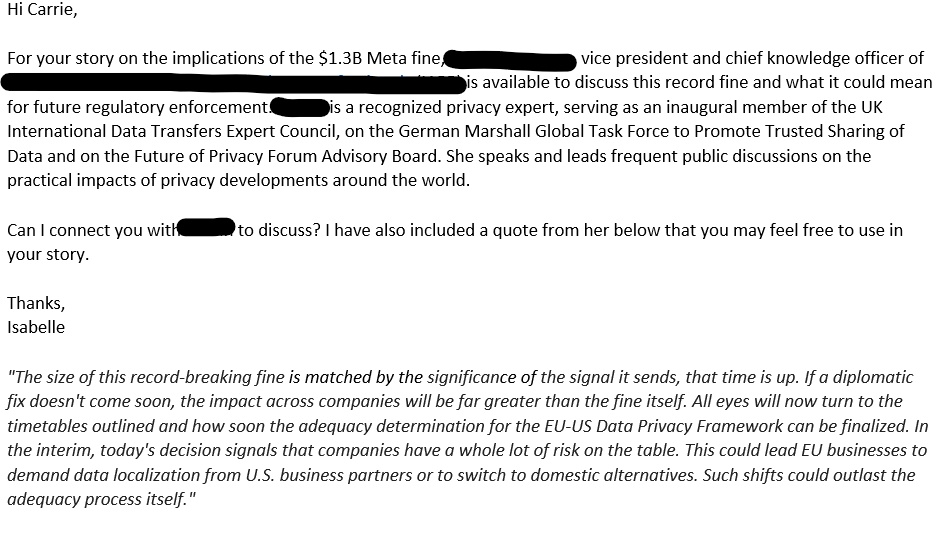 One longtime Matter client – an insurance brokerage and consulting firm – regularly scores quality trade coverage. But we knew newsjacking could provide them with increased exposure to top-tier press. When Farmers Insurance and State Farm reduced or stopped offering property insurance in Florida due to increased weather events, the team quickly rallied to offer commentary around the state of the insurance industry amidst accelerating climate risks. It quickly resulted in coverage with Bloomberg.
Now, not all news is created equal. Even if it's relevant, there are times when brands should pause newsjacking to avoid appearing tone-deaf or insensitive to the ramifications of major events. Days following the collapse of the World Trade Center, Quantum Tech issued an announcement: "WTC Collapse Highlights Need for Quantum Tech's Remote Backup." The press release touted customer Morgan Stanley's ability to function the next day despite its offices being destroyed, because it had off-site data storage. It was later retracted and the employee responsible fired.
Authenticity
This is not the place for self promotion. You will not get coverage if your commentary is overtly self-fulfilling. Following a devastating hurricane in the Gulf, a window manufacturer should not pitch a reporter on the ways their window film could have helped. Nor should a cybersecurity firm pitch its offerings as the solution to a data breach a tech reporter is covering. Reporters will quickly add you to their blocked list.
You can't go into newsjacking with the expectation of backlinks or conversions either. The benefits lie in your increased credibility as a thought leader amongst peers, customers, partners and prospects – not to mention the relationships you build with the press. Your commentary must educate, empower and inspire readers.
Following the Log4j security vulnerability incident in January 2022, our cybersecurity client offered this authentic analysis in The Verge. This piece does a great job of clearly explaining the implications of the breach, even breaking down the issue for those outside the developer community.
Authentic media commentary connects with audiences on a human level. When commentary reflects real emotions, first-hand experiences or viewpoints, it becomes relatable to your target audience. It builds trust. People are more likely to believe in the integrity of your message and view your brand as a reliable source.
Before you get started, think about who within your organization has the time, expertise and insights to devote to a newsjacking program. Typically, it's a member of the C-suite, but it doesn't have to be. Get them in the room with members of your PR team or internal communications staff to learn what topics they're passionate about, what keeps them up at night, and what opportunities and challenges they see within the industry's biggest trends.
From there, develop a short list of key talking points, pitches and/or bylines to offer the media, and remember to move fast to deliver relevant and authentic perspectives that will build a solid foundation for meaningful and impactful media coverage.
If you're looking for help with your newsjacking efforts, our Precision team is here to help you proclaim veni, vidi, vici. Reach out today, and we'll help your leadership land the coverage you need to elevate your brand.
Emily Quirk is Vice President and Leader of Media Strategy of Matter's Precision Division. With 20 years of experience in journalism and public relations, she manages and mentors PR teams for B2B and B2C brands. Her teams regularly secure coverage for clients in Business Insider, Wall Street Journal, TODAY, Bloomberg, Fortune and Forbes.