The buyer's journey is the path consumers take to go from prospect to customer. In the age of digital expansion, your customers are using search engines, online content and social media to make informed decisions more than ever.
By understanding your customers and the path they take to purchase your product or services, you can better answer their questions and guide their journey at every stage to increase the chances of conversion. The buyer journey is complex, and it's not always a straight path, so you must take care to consider each phase of the journey to better assist customers along the way, targeting them with the right messaging, content and education.
Actively nurturing your prospects and effectively utilizing digital channels will yield faster conversions.
Persona Development
Before you kick off planning your digital strategy around the buyer's journey, persona development is essential. Taking the time to understand each audience segment – and their challenges – will help you understand how to match the right messaging and content to each phase of your customer's journey. Making assumptions does not enable accuracy. The more precisely you can match your messaging and content to your customers' needs, the faster they will move down the funnel.
Understanding the Buyer's Journey Phases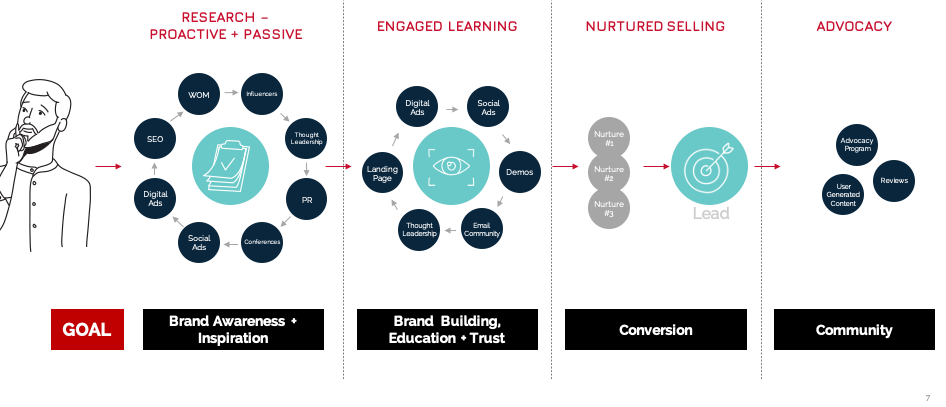 Awareness Stage – Branding and Inspiration
In the awareness stage, prospects understand their needs, but may not know your brand. This is the time to make your audience aware of your product or service. You need high-level content that introduces your brand and your suite of offerings, and informs consumers how you can address their pain points. Your brand should rank highly on search engines and have the right messaging to attract attention. 
During this phase, you want to trigger interest and inspiration. So, use these tactics to put your brand on your audience segments' radar:
Thought leadership content is essential and must offer interesting perspectives on topics your audience is interested in.
SEO/SEM ensures your website ranks when your segments are starting their research.
Digital advertising on key websites will keep your brand top-of-mind while your audience is researching.
Press releases and online media hits will help build brand awareness and validate your offerings.
Influencer marketing builds credibility, which goes a long way at every phase of the funnel.
Social media promotes thought leadership content and brand awareness posts to reinforce recognition.
Consideration – Increase Brand Preference, Education and Trust
During this phase, you want to increase consideration and education while building the trust of your audience segments. Your audience is continuing to research, validate and understand their choices, and how they compare with other brands. They are further defining what they need and vetting their options. It's not just about selling and pushing your product/service offerings – it's about providing answers to customer inquiries and validating your offerings through resources, educational content and targeted promotions. Key tactics to deploy include:
Supporting and validating informational content continues to be vital, and the content must match what your audience is looking for. To best help guide your audience during this stage, consider using easy-to-consume, educational content, such as webinars, blogs, eBooks, white papers, podcasts, videos and case studies.
Remarketing to your audience helps you stay on their radar by promoting supportive content once a prospect has visited your website.
Email marketing to support the journey is vital at this stage, as it helps nurture their decision-making process with personalized content and messaging.
Conversion + Community Building – Getting Across the Finish Line and Growing the Relationship
At this point in the journey, decisions and purchases are ready to be made. This is where promotions, such as coupons and special offers, are helpful for product sales with the primary intention of creating urgency and timeliness. For business-to-business offerings, you want to continue validating and adding credibility via additional case studies, demos and testimonials. 
Once a purchase has been made, most businesses continue to build a relationship with their customers. Building brand loyalty and trust with continued marketing efforts, like email marketing and social media posts, are critical – and can lead to repeat purchases or referrals. In today's competitive landscape, growing a relationship with your customer through continued content sharing and education will go a long way in keeping your brand top of mind.
To see how these pieces work together with a strategically mapped-out plan, check out the below example of how a customer journey can be supported with digital tactics – following the consumer from awareness to brand loyalty.