Honored by the PR Club for the "Best of the Best" in Public Relations, Communications and Marketing Industries Around New England
BOSTON, June 13, 2023 — Matter Communications — a Brand Elevation Agency that integrates PR, marketing and creative services — is proud to announce it has wonfour Bell Ringer Awards for exemplary work across consumer, healthcare and individual professional categories. Each year, the PR Club hosts the Bell Ringer Awards Ceremony to celebrate the outstanding work done in New England by the PR, communications and marketing professionals in the region.
This year, Matter captured four Bell Ringer Awards across multiple categories, including:
Silver Bell – Consumer Industry Campaign, "CVS Health: Taking the Stigma Out of Home Health Care Products"
Bronze Bell – Executive Thought Leadership Campaign, "Elevating DexCare CEO Derek Streat as a Thought Leader Through Healthcare's Challenges
Bronze Bell – Series of Media Placements, "Evenflo Wins Parents 'Best of Award,' Featured on TODAY"
Striker Award – Industry Newcomer, Simone Migliori, Account Executive, Matter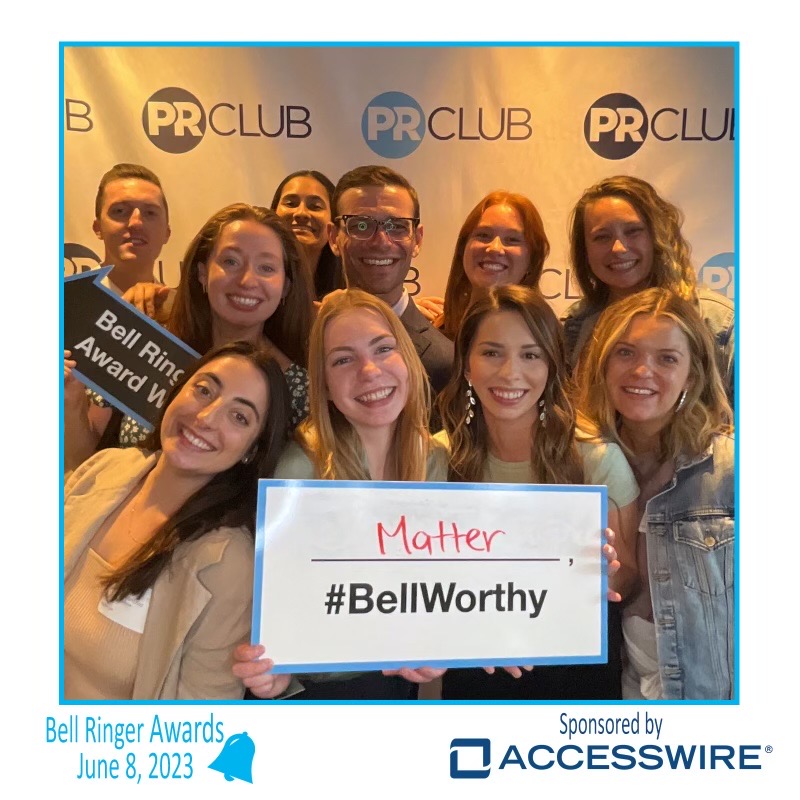 "Our teams put forth tremendous efforts to provide the highest level of service and results for our clients, so it brings me great joy to see their hard work recognized by our industry peers," said Scott Signore, Principal and CEO of Matter. "I couldn't be prouder of this year's winners and all of our teams for continuing to make Matter the world-class agency it is."
The four award wins mark another memorable Bell Ringer Awards ceremony for Matter, showcasing its successful campaigns across thought leadership content, influencers, media relations and more, as well as a proud moment for Simone Migliori, Matter Precision Account Executive who earned the event's prestigious Striker Award. The Striker Award recognizes the practitioner who demonstrates an early passion for public relations, a dedication to their career and a superior work ethic.
"Winning a Bell Ringer Award signifies one of the highest levels of achievements for New England communicators," said Sofia Giovannello, PR Club president and managing supervisor of Methods+Mastery. "Year after year, we see incredible work reflected in the quality of entries. On behalf of everyone at PR Club, we congratulate all the winners!"
With 250+ professionals across offices in Boston and Newburyport, MA, Rochester, NY, Providence, RI, Dallas, TX, and Denver, CO, Matter is one of the fastest-growing PR, marketing and creative firms in the country. Matter has won 14 "Agency of the Year" accolades and has been consistently recognized as a top place to work.
About Matter Communications
Matter is a Brand Elevation Agency that integrates PR, marketing and creative services into content-rich campaigns that inspire action and build value. Founded in 2003, with offices spanning North America, Matter works with the world's most innovative companies across healthcare, high-technology, consumer technology and consumer markets. For more information, visit https://www.matternow.com.
About PR Club
Founded in 1948, PR Club (formerly the Publicity Club of New England) strives to promote and encourage involvement in the communications industry and specifically the professions of public relations, promotions, and marketing. Get additional information about monthly PR Club programs, social and networking events, the "Bell Ringer" blog, and the Bell Ringer Awards Ceremony at www.PRClub.org. Follow them on Twitter @PRClubofNE.
About the Bell Ringer Awards
The Bell Ringer Awards recognize public relations and communications work that demonstrates excellence in creative planning and superior execution to achieve a high degree of success in reaching predetermined objectives. Open to all New England practitioners, the program, now in its 55th year, celebrates the extraordinary work of the region's communications professionals.
Contact
Matter
Greg Amaral
gamaral@matternow.com