We're excited to kick-off this two-part blog series, where we'll discuss the considerations brands across all industries should take when adding influencers into their marketing mix.
---
We know that people generally trust and engage with influencers, but just how much of an impact are influencers actually making when it comes to persuading consumers to act and make purchases? A recent Matter survey reveals strong opportunities for brands through relatable, educational and entertaining creator content. The data shows that 81% of respondents have either researched, purchased or considered purchasing a product or service after seeing friends, family or influencers post about it.
Additionally, breaking through the noise in the influencer world is also more important than ever. With 63% of consumers noticing an increase in sponsored content from influencers in their social feeds, it's crucial for brands to share content in a way that resonates, feels authentic and maps to the type of content consumers prefer – quick, snackable information that lets your audience walk away with new tips or knowledge.
The influencer landscape
Spanning platforms including Instagram, YouTube, TikTok, Facebook, Pinterest and more, there is an influencer out there to fit every brand's needs. But whether you're a niche consumer product company or a SaaS giant, when identifying influencers for your campaign, keep in mind that people are looking for authenticity. Sixty-nine percent of people are likely to trust a friend, family member or influencer recommendation over information coming directly from a brand, and relatable personalities are most appealing when deciding to follow an influencer on social media according to our research.
Partnering with the right influencers is the difference between a good campaign and a great campaign, but the search for the right fit can feel daunting. Combining AI and data-driven technology with the deep experience of a proven influencer team can fast-track you to quickly identify and build real relationships with the influencers who most genuinely capture your core campaign needs.
When is the right time to activate an influencer campaign?
Before you decide when you want to launch your influencer campaign, you need to ask yourself why you want to kick off this partnership. What goals is your brand looking to achieve? Why is it an important aspect of your marketing mix? Is it to help promote a product launch or company announcement, or are you hoping to supplement traditional media relations and increase overall brand awareness?
Pinpointing why you're considering influencers is an essential step to take before approaching any influencer or agency! Not only is it a starting point for your list of campaign KPIs, but it'll also help you to determine which type of campaign you want to launch. One of the best parts of working with influencers is that you can customize your strategy based on your brand's unique goals.
If you're not sure what type of campaign is right for your brand, here are a couple of examples to keep in mind as you develop your overall approach: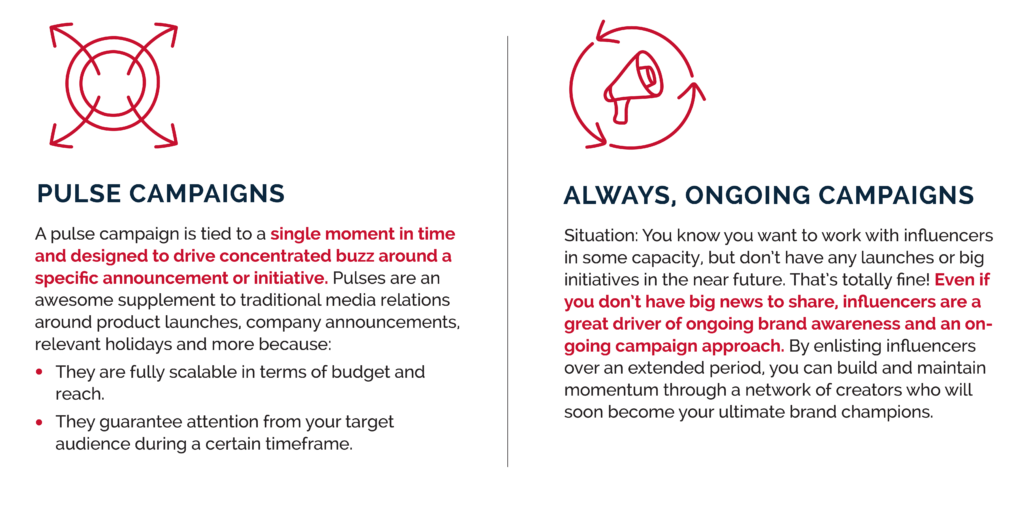 What types of content resonate the best?
Once you've aligned on the type of campaign that best fits your goals, it's also important to consider the type of content you're directing your influencers to put out. Whether you're choosing to implement a pulse campaign or an always-on campaign, consider focusing on the types of content consumers say they enjoy most:

---
Whether you're just starting your journey into influencer marketing or want to scale your current programs to reach new audiences and achieve new goals, we're here to help! Contact us to chat more about building an influencer campaign that works best for your audience and your brand. We'd love to hear from you!