Podcasts are good for business
Here's a question we get a lot here at Matter: Are podcasts worth adding to my content marketing strategy? The answer to that is simple: yes. Wait, are you not convinced by our one-word answer? Well, you're in luck, because part three of our Marketer's Guide to Valuing Long-Form Content is going to dig into why you should refocus your priorities on better kinds of engagement, how podcasts fit into a content marketing strategy and what measurements you can use to demonstrate the value of podcasts to your business.
If you missed part one (Brand Affinity, Binge-worthiness and You) or part two (Podcasts vs Video Series) of this guide, check them out. They'll give valuable context on the world of long-form content and why we invest in it.
Content marketers, meet podcasts (aka, your new best bud)
Here's the thing about podcasts: people love them. They're easy to consume and, unlike a lot of marketing content out there, people actually choose to consume them. Right now, you're probably thinking about your favorite pods. And beyond the topics, titles and formats, maybe you're thinking about hosts, networks and producers. These are all names you trust, both for entertainment and for their unique perspectives. You connect with them and trust the content they make.
Now, let's take a step back from what you (as a content consumer) personally love about podcasts, and consider the format from the perspective of a content marketer. Best case scenario, podcasts help you build brand affinity. That is, your audience connects with your brand and develops trust for what you do, turning them into customers and eventually brand advocates. That sounds a lot like how you, personally, engage with podcasts. So, remind us again why aren't podcasts a part of your content marketing strategy?
While you ponder that, let's back up and talk engagement stats. You're not alone in your love of pods. People spend more time listening to podcasts than they do scrolling through social media and even watching TV. And the majority of listeners engage with podcasts for more than 7 hours a week. Your customers listen while commuting, doing chores, walking their dogs, running errands – anywhere they've got their phones, they've got podcasts. That freedom of mobility and ability to multitask creates an unusually intimate kind of engagement. Podcast listeners are more open and receptive to your ideas in a way they're not while staring at a computer. Podcasting is a more of a "feel" medium than an "analyze" medium, making it a great way to tell stories and build relationships with your audience.
Hear us out: Podcasts are the next frontier of content marketing
Marketing isn't about who arrives – it's about who stays. So, if you're thinking about how to captivate audiences with your content and connect them with your brand, think seriously about podcasts. Now, blogs are great – we love blogs. Heck, this is a blog! But nearly half of readers admit to skimming blogs for pertinent ideas rather than actually reading them. Hopefully all these ideas in this blog matter enough to you, and you're not just skimming it, but we can't hold that against you either way. After all, this isn't a podcast. If it were a podcast, you could be listening to it right now because it would be embedded as an excerpt right here:
See what we did there? You could be doing it too – creating multiple points of engagement with the same content, holding your audience longer on pages and with your important messages. Because it turns out, when it comes to podcasts, your audience doesn't just visit. Your audience – customers and prospects alike – stays with your content. According to Discover Pods research, nine out of ten podcast listeners listen until the very end of every episode.
With that in mind, it's high time we savvy marketers consider a more concentric model when working on brand affinity.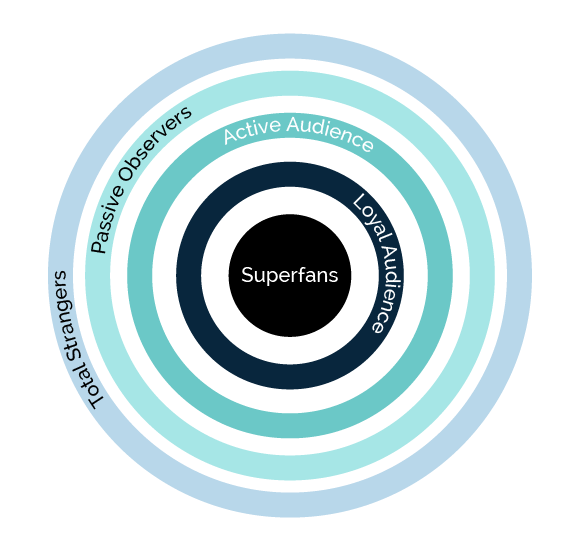 Here, we take stock of the audience's journey toward brand affinity, recognizing that it all starts in the middle and emanates outward from our most engaged audience members. By focusing in on the people who are already somewhat aware of and aligned with your brand, you can turn them (and their colleagues and friends) into superfans who spread your show's reach organically. That's impactful for two reasons. First, you let the content and its audience do the work of promoting your content for you (aka, it's free). And second, organic brand engagement is arguably the only way to move total strangers toward trust, affinity and (eventually) advocacy. By going beyond the funnel-based KPIs like brand awareness, you can instead dig deep to provide genuine value and develop an authentic relationship with your audience.
How to measure brand affinity with podcasts
Historically, content marketing has concerned itself with awareness and reach, but as we just discussed, we're digging deeper than that. So, let's leave vanity metrics – views, impressions and social data like applause rate – behind us, as those barely scratch the surface of how we understand the audience relationships we're building. In fact, we recommend you ignore the most common podcast metric – total downloads – since it doesn't really tell you what value your audience draws from your content or how connected they feel to your brand.
Instead, you need data points that focus on the strength of the connections you build — how much does your audience trust you? How much do they value their relationship to your content? Do they count on you to make their day better with their favorite show? Considering that these are the desired outcomes of your content – or at least they should be – they're also the most important data points to measure and analyze.
Now, there are plenty of useful analytics for you to demonstrate the value of your pods, and we recommend you familiarize yourself with them. (Our friends at Wistia do a particularly good job of breaking these out by degree of complexity.) But by far the most impactful metric we've found is what's called Average Consumption, or how much time your audience spends listening to your individual episodes. Whereas downloads tell you how many devices at one point or another had your podcast on them, Average Consumption tells you how much of your audience engaged with your pod and for how long. From observing Average Consumption, you learn what keeps folks listening and what makes them tune out. Now you can adjust your total runtime, guests, and episode structure with a high level of confidence.
Think outside the dashboard
Let's back up for a second. It's easy to get mired in your performance dashboard – we've all done it with one form of content or another. But the numbers are just one form of data. Our advice: Start expanding your notion of what data is. If your main goal is to get more downloads with every episode, you're almost certainly going be disappointed at first. And fretting about your analytics dashboard on episode 2 is only going to clutter your mind and disrupt the creative process that allows your amazing show to emerge. Always remember it's the quality of the content you make that really matters. Focus on audience surveys (ask questions, get insights that inform your show's improvement) and collecting statements (testimonials, reviews, quotes, social media interactions, etc.). Capturing and quantifying what people say about our work is super important – way more important than obsessing over per-episode downloads.
Case in point: GE's sound (and profitable) podcasting play
A few years back, General Electric noticed a gap in its otherwise successful and reasonably robust content marketing strategy. How could GE, a monolithic brand with significant market share in a crowded consumer goods space, connect with younger, tech-savvy consumers who tended to shy away from anything resembling a sales pitch? Because these consumers cared more about a brand's values than its value, GE was forced to think beyond the standard engagement funnel and dig deeper into building brand affinity.
So, in 2015 GE entered uncharted waters, partnering with agency BBDO to develop a podcast. No, not a leaders-talking-to-leaders-about-leadership podcast – where others had gone shallow, GE went deep. The Message, which drew inspiration from Orson Wells' infamous War of the Worlds radio program, was a bona-fide science-fiction storytelling podcast. That might seem a far cry from the products and services typically associated with their brand, but GE knew they needed to do something different in order to connect with these more elusive audience segments.
And you know what? It worked. By taking a strategic approach to high quality podcast content, GE told a story that upheld their company's values while connecting their brand with their target audience. Within weeks, The Message was positioned atop Apple's podcast charts, with millions of downloads and newly engaged brand advocates. It stands today as one of the most successful examples of how businesses can invest in long-form audio content and reap long-term benefits.
More is better – the case for producing multiple podcasts
Speaking of content quality, let's close this blog out by talking a bit about content quantity. Brand affinity is a highly focused, deeply niched kind of brand engagement. So, if your goal is to make a single podcast that speaks to your entire audience, you may want to reconsider. A single podcast is a great place to start, but if you're truly committed to building brand affinity, you need to recognize the many niches you can tap into. Think about it – your business has different parts, each of which potentially appeals to its own niche or subsegment of your audience.
Now, podcasts can seem like a bit of a slow burn compared to other formats in your content marketing toolkit, but in a big way that longevity is their strength. And you can use it to your advantage if you have multiple pods generating a variety of adjacent content types like videos, audiograms and blogs. Because brand affinity grows over time, you can release different shows, with different identities, that speak to different audiences about different parts of your brand released on – you guessed it – different cadences. And, in the meantime, you can use those adjacent pieces of content to cross-promote shows (alongside your brand) and build real momentum with your audience. In essence, each show gets to burn its slow burn within its niche, strategically building trust with your audience as they anticipate the next episode. And that's all while tracking to a diverse content release schedule. In short, one podcast is good for your business – many podcasts are better.
At Matter, we specialize in identifying niches and creating podcasts to build brand affinity, among other things. If you have an idea for some pods but aren't sure how to bring them to life, schedule a strategy session with a member of our team by filling out the form below.